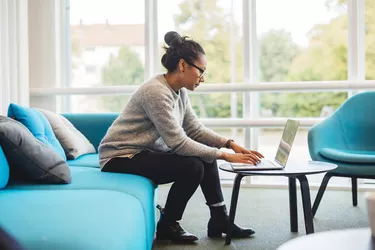 If you have an issue with an online debit card transaction, such as if you don't get the merchandise you ordered or it's in bad condition, you can often ask your bank for assistance fighting the charge. For example, you could contact Chase customer service if you're a Chase customer. It's usually best to try to resolve the issue with the merchant first. If the issue is a fraudulent charge, contact your bank immediately to limit your liability.
Seeking a Debit Card Refund
If you bought something online with your debit card, whether it's a physical item or some sort of digital service, and you find you're not satisfied with it, your best first option is usually to contact the merchant who sold it to you. Explain what the situation is and politely ask for a refund or a replacement of the merchandise.
In many cases, the merchant will refund your debit card or send you a replacement item. It may take a few days for a debit card refund to go through, and you should monitor your online banking site or app to make sure the credit is ultimately applied to your account.
Contacting the Merchant
If you have trouble getting a response from the merchant by phone, you may want to send an email or even a physical letter. You can cite your jurisdiction's consumer protection laws that might apply, including any special laws that might apply to certain types of merchandise.
Naturally, in the case of physical merchandise, you may need to physically return it to the merchant before you get a refund. Talk to the merchant about your options for getting the item back. Depending on the store and the situation, you might be able to get a prepaid shipping label so you're not out the cost of shipping the unwanted item back or drop it off at a brick-and-mortar location if the company has them.
Disputing a Debit Card Charge
If you can't get a speedy resolution from the merchant, another option is to dispute the charge with your bank. Cards with the Visa or MasterCard logo usually offer good consumer protection, and you can usually call your bank, send a letter, fill out an online form or drop by a branch to initiate the process. Look for the bank contact information online by searching for a phrase like "Chase contact" or "Chase bank number" or simply call the number on the back of your card.
The bank may issue you a temporary credit while it investigates the matter and works with the merchant. Keep in contact with the bank to see how the issue is ultimately resolved, and make sure to hold on to copies of all relevant documents, including any receipts and any correspondence with the merchant and the bank.
If you made the purchase through a payment service such as PayPal, or through a marketplace service like Amazon or eBay, those companies will also have ways for you to dispute the charge. Check with the relevant companies to see what your options might be and decide how best to contest the charge.
Dealing with Debit Card Fraud
If you spot a fraudulent charge on your debit card, contact your bank immediately. Under U.S. federal law, your liability is often limited, but the amount you can be on the hook for can increase the longer you wait to notify your bank.
You'll usually also want the bank to cancel the card so it can't be used for any more unauthorized purchases and send you a new one. Remember to update any services where you have recurring purchases, like subscriptions or utility payments, enabled and to update any place you have the card number saved online or on your computer or phone.
You may also want to file a police report to document the fraud.