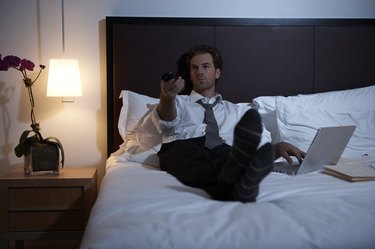 When the job has you on the road six months of the year or you feel an urge to travel the world, hotel living is the ultimate outcome. Staying in a hotel for the long-term does not have to be an inconvenience. There are plenty of ways to get mail, cut costs, deal with your luggage and get amenities.
Check Out Long-Term Stay Rates
Many hotels offer extended stay rates for regular and long-term guests, especially in college towns or cities with lots of international travelers. Ask the hotel manager about these rates, and let the hotel know that you plan on staying for a long time. Ask if there is a time limit on how long you can stay at the hotel. Some hotels even set up monthly rates just like apartments but without the lease. If you are a regular guest, see if you can negotiate the price a bit, or ask for certain amenities.
Look for Amenities
Odds are you will want to use internet and the phone wherever you stay, and hotels offer both of these services with the room. Unlimited local calls are included, but guests are charged for long-distance phone calls. Cable television, free continental breakfast, use of the fitness center, free parking, and maid service are added amenities that make living in a hotel more comfortable. Ask how often you can expect maid service as a long-term guest. Some places may reduce the cleaning service to just once a week, unless requested, for long-term guests. Certain hotel chains also offer reward points for stays that can be used for discounts on future stays, which is helpful for travelers.
Travel Light
One big problem of living in hotels is the lack of space to store your things and the fact that it is a non-permanent residence. For many, hotel living is no problem and they are comfortable living out of a couple of suitcases. If you do want to keep some of your household things, furniture, and excess clothing, consider renting a storage space. A small space can be inexpensive and allows you to keep a lot of your things while you travel. Before you move into the hotel, make a list of items you need to take along. Try to list only items that are essential with multiple uses.
Dealing with Mail
Another issue to consider is how to receive mail and other correspondence. Some hotels will accept and hold mail for their long-term residents. Ask about their mail policy before having mail sent to you at the hotel. Another option is to have mail sent to a relative's home with their permission. You could also use this relative's home as a place to stay and a permanent address between hotel stays. You can also pay for a post office box to receive your mail. If you receive high volumes of mail, consider Business Mail Pickup where the USPS holds mail until you arrange to pick it up.