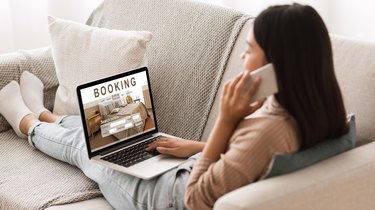 Expedia, Booking.com and other travel websites can take the stress out of planning a trip. You may use these platforms to find cheap flights, set up your itinerary or book a hotel without credit cards. That's right – you don't need a credit card to travel the world and book accommodation. Most hotels and resorts accept debit or prepaid cards, PayPal, bank transfers and even cash.
Tip
Most hotels accept debit and prepaid cards, but they may place a temporary hold on your card to cover extra fees. If you're booking a room online, you may also use PayPal or choose a hotel that allows you to pay upon arrival.
Use Third-Party Booking Websites
Credit cards carry higher interest rates than car loans and other types of debt. In fact, they are not too different from unsecured loans. Since there is no collateral involved, card issuers charge high interest to compensate for this added risk. The average credit card interest rate was 16.3 percent in the second quarter of 2021, reports the Federal Reserve. Travel credit cards are even more expensive because of the rewards offered.
The good news is, you don't need a credit card to plan that perfect trip. First, check out Booking.com, Hotels.com, Expedia, Hotwire, Trivago and other third-party travel websites. These platforms feature hotel and flight deals, vacation packages, last-minute offers and members-only discounts. Some also allow consumers to book a hotel without credit cards.
Booking.com, for example, will display this option as "No prepayment needed" after you enter your destination and travel dates. If, say, you're planning to visit Austin, Texas, you can book a room at the Carpenter Hotel or East Austin Hotel without paying in advance. To narrow down your options, click "No prepayment" under Reservation Policy on the menu on the left side of the screen. Make a booking request and then contact the hotel to ask about its payment policy.
With this option, you will pay at the property upon your arrival. However, you may still need to enter your payment information on Booking.com or whatever platform you are using. Provide your debit card number if you don't have a credit card. Some hotels may place a pending charge on your card to make sure it has enough funds.
Whether you book your stay directly with the hotel or through third-party websites, consider using a debit or prepaid card. The difference between the two is that a debit card is linked to your checking account, while a prepaid card requires users to load money onto it. If you add ​$500​ to your prepaid card, you can only spend ​$500​. With a debit card, you will draw money directly from your bank checking account. Debit cardholders may also have the option to enroll in overdraft protection, notes the Consumer Financial Protection Bureau.
Most hotel chains and motels accept debit card payments, but it's best to call them in advance and ask about it. Some may also accept prepaid cards. Marriott and other hotels will put a temporary hold on your debit card upon check-in. This preventive measure is in place to cover room and tax charges, extra fees, movie rentals or any damage that may occur during your stay. A security deposit may be required, too.
Motels, inns and small hotels generally accept cash. That's not the case with major hotel chains, though. As discussed above, most properties will place a temporary hold on your debit or credit card. Some do it as soon as you book a room or upon check-in. If you prefer to pay cash, you may not be able to make a reservation in the first place.
Another aspect to consider is the hotel's refund policy. If you pay cash for your room, you may not be able to get your money back in case something goes wrong. No hot water, dirty rooms, bugs or foul odors are all common problems for hotel guests. On top of that, traveling with cash isn't always safe.
All in all, it's possible to book a hotel without a credit card. In addition to the above options, you may use PayPal for online reservations, make a bank transfer or pay by check. Expedia, Orbitz, Hotels.com, Booking.com and Hotwire all accept PayPal and debit cards. Unfortunately, you likely cannot use gift cards to pay for your room.