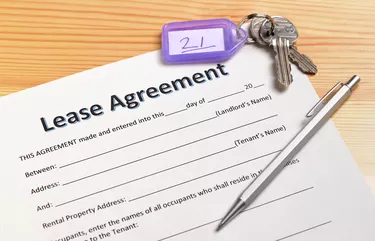 An apartment for lease is basically the same thing as an apartment for rent, according to ApartmentSearch.com. A lease is a contract between a landlord and a tenant. It defines the requirements for the tenant to rent the apartment and acknowledges the landlords responsibilities for keeping the apartment in a livable condition. Before you sign a lease agreement for an apartment, consider some essential questions.
Most lease agreements are for 12 months, but if you're willing to pay a higher monthly rent, you can get a shorter term. The lease might start on the day you move in or on the day you sign it. In some case, the landlord could use a month-to-month lease. This type of lease allows you or the landlord to terminate the lease at the end of each month.
If you do not move and the landlord does not ask you to leave, the lease then automatically renews for another month. This type of lease is sometimes used in cases in which a high transient population exists, such as at colleges, or for individuals that are only scheduled to be in a certain area for a short time.
Lease Payment Considerations
The lease payment is usually due on the first day of each month. In certain cases, however, the landlord might be flexible with this and allow you to choose your date or he might ask that you pay your rent on the 10th or 15th of every month. If the payment is late, a penalty is usually incurred and you will owe an extra amount in addition to your monthly payment.
Because of the length of time it takes to legally evict a tenant, many apartment landlords send you an eviction notice the first day you are late with your rent. Even if they have no intention of evicting you, this helps them get the clock started, rather than waiting to start an eviction process after they've tried to work with you for two or more weeks.
Apartment Occupancy Issues
The use and occupancy section of the lease states how many people are allowed to live in the apartment and will generally have a space on the lease for you to write in the names and relationship of those who will live with you. By law, the landlord cannot discriminate against you by who you choose to have live with you.
However, they can have restrictions as to how many people can stay with you at one time and how long overnight visitors can stay. In many cases, it will be no problem to have a friend visit for the weekend if you notify your landlord in advance. You might even be able to arrange for a temporary parking pass for your guest.
Read the lease agreement carefully before you sign. The lease should state who is responsible for the utilities in the apartment, whether pets are allowed and under what situations you might not get your security deposit back. Look to see what insurance the landlord offers, and if you'll need to buy extra renter's insurance to protect your personal belongings.
A security deposit is an amount paid that is usually the equivalent of one or two months of rent. This amount is generally refunded at the end of the lease if you do not owe money for rent and have left the apartment in the same condition as when you first moved in.