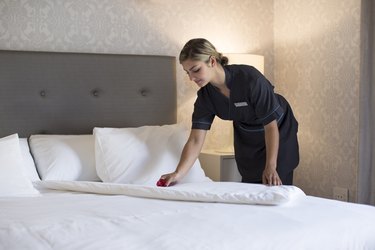 How much do housekeepers make an hour? While you can find average wage statistics for hotel housekeepers, what you can earn will depend on a variety of key factors. As the travel industry recovers from the effects of the COVID-19 pandemic, and with the rise of alternatives to hotels, like Airbnb, things get further complicated.
With just a little bit of extra research, you can find out what you might earn per hour (and if you'll get any benefits) as a housekeeper at different lodging establishments in your area.
If you can't find out what a specific hotel in a specific city is paying its housekeepers, look up your state's minimum wage. That's the least a hotel can legally pay its housekeepers per hour. Make sure you compare your state's minimum wage to the federal minimum wage.
While some states set their minimum wage higher than the federal minimum, some have set theirs lower (often as a protest). However, when a state's minimum wage is lower than the federal minimum wage, employers must pay the federal minimum wage.
Look at National Statistics
You can find some national statistics if you aren't concerned with local numbers. For example, according to the U.S. Bureau of Labor Statistics, maids and housekeeping cleaners working at traveler accommodations earned a mean hourly wage of ​$13.58​ as of May 2021. That came to an annual mean wage of ​$28,250​. Indeed.com had the hourly figure at ​$13.08​ in April 2022. ZipRecruiter gave a ​$10.74​ hourly rate (or ​$22,341​ annually) as of March 29, 2022.
Why the big difference? The BLS uses information that comes from employer surveys, while jobs websites often use the average wages and salaries offered in job postings at their websites. Don't forget that many housekeepers get tips, often left on the pillows of the rooms they clean. The more expensive the hotel, the more tips you can expect.
To get better numbers for your area, drill down on sites like Indeed, ZipRecruiter or Salary.com to find pay rates by state or town. For example, ZipRecruiter showed an average hotel housekeeper salary of ​$47,409​ in Atlanta, Georgia, in March of 2022, but only ​$21,010​ in suburban Marietta, Georgia.
That is most likely due to the fact that Atlanta has large hotels, and ZipRecruiter's hotel advertisers in Marietta might have been low that month. For the same month, Indeed had hotel housekeepers in Atlanta at ​$12.37​ per hour, and at ​$12.24​ in Marietta – much closer.
Hotel housekeeper jobs require no formal training. Instead, you'll get on-the-job training, probably cleaning rooms with an experienced staff member for a day or so. You'll be given a checklist to follow as you clean each room to make sure you don't miss performing any of the tasks you're required to handle. A head housekeeper often checks each room after its cleaned.
In addition to cleaning rooms, you might be required to clean hallways, fitness centers, the hotel office and other facilities. You might also be required to do laundry, cleaning, drying and folding sheets, pillow cases, towels and washcloths. As you get more experience, you might get promoted to shift supervisor or head of housekeeping.
Some hotels pay housekeepers per room they clean, rather than a set hourly wage. This is legal as long as the pay these housekeepers earn matches the minimum wage for their state, explains FBFG.
Employers are also required to pay you overtime if you work more than 40 hours per week. This can occur during busy times (such as during a convention) or if other staff members are sick or quit at the same time, creating a housekeeping staff shortage.