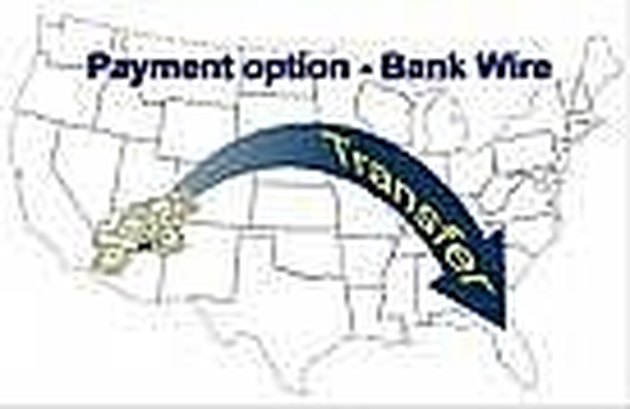 A wire transfer helps to move money from one account to another account. The convenience of not having to physically move the funds is unbeatable. Below are simple step by step instructions for wiring your money.
Step 1
Contact the foreign bank and collect the following information: 1. Name of Bank 2. Bank Identifier Code (BIC) 3. Full address of the bank or branch address 4. IBAN # if sending to Europe
Step 2
Collect the following information from the beneficiary of the funds 1. Name 2. Account number 3. Complete address
Step 3
Determine the amount of money you wish to send. Ensure the availability of the funds in your account. Remember, usually there is a fee for each international wire transfer. Shop around credit union banks for a good rate.
Step 4
After sending the wire, ask for a confirmation. Collect necessary information to track the wire transfer. Also ask the beneficiary bank for an email or fax confirming the receipt of funds.
Tip
Usually there is a cut off time at the bank by which time your wire transfer has to be submitted. Any wires submitted after that will be sent the next day. If you are in a rush, plan accordingly. The BIC (Bank Identifier Code) is different based on the country you are sending to. Canadian banks use TRNO, Australian banks use BSB, German and Austrian banks use BLZ, United Kingdom uses UKSORT and other countries use SWIFT code. In case you get a SWIFT code, then also ask for the actual BIC code. Choose a wire transfer where you can track the wire. International wire transfer uses several jumps and institutions to send the money over and there are cases where the funds are lost and you will get reimbursed (slowly). So ability to track the wire is unbeatable.
Warning
Many times, you can send the money to a local US bank (like JP Morgan or Chase) and they will do the international wire transfer. In this case, you will need to provide an additional account number for the US bank to identify the international bank. BUT, your bank CANNOT track the wire beyond the local US bank, which can be a huge disadvantage. Wire transfers can take upto 3 weeks, though the average is much lesser. So plan ahead if you need the money to be there by a certain time. Beware of the "instant wire transfer" companies. They either charge a percentage of the amount or some overhead per dollar (USD) transferred. This can add up VERY quickly when sending large sums of money. Stay away from agencies that deliver the money in form of a check to the beneficiary. Money directly in the bank is the way to go. It is safer and less complicated.
Things You'll Need
Bank account in the US

Bank account in a foriegn country