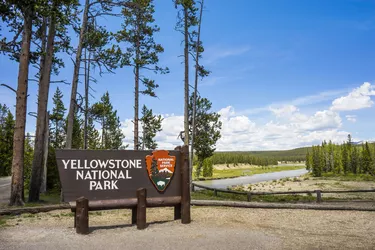 Travel is making a strong comeback in ​2022​, as eager consumers return to pre-pandemic vacation habits. But throughout the COVID pandemic, U.S. national parks and state parks have enjoyed a surge of interest, thanks in large part to the many outdoor spaces that tourists could safely enjoy. A national parks and federal recreational lands pass gives you access to more than ​2,000​ parks across the nation for ​one​ annual fee.
What National Parks Passes Provide
If you plan to visit more than a couple of national parks each year, an annual park pass can help you save. For ​one​ fee, you'll get an America the Beautiful pass, which you present at national parks to cover all entrance fees and day-use fees, also known as standard amenity fees.
You can use your access pass at all federal recreation sites, including national forests, national wildlife refuges and grasslands. You can also use it at any land managed by the Bureau of Land Management, Bureau of Reclamation or U.S. Army Corps of Engineers. The passes are not replaceable and non-transferable, so you'll need to keep track of it once you purchase it.
Known as the America the Beautiful pass, each pass covers entrance fees at national parks. A pass covers entrance fees, standard amenity fees and day use fees for a driver and up to ​four​ adult passengers in a personal vehicle. Children ages ​15​ or under are admitted free.
Parks passes don't cover all expenses associated with park visits though. The forest service won't cover costs like food you buy from concessionaires, licenses required by the Fish and Wildlife Service or boat launching fees. Seniors and disabled passholders may be eligible for a ​50 percent​ discount on those types of fees.
National Parks Passes Cost
An annual pass from the National Parks Service comes with ​one​ annual fee. That fee is ​$80​ per year for most people, but there are special rates for some.
​Seniors ages 62 and up​: Senior vacation discounts are available across the U.S., including at national parks. You can purchase an annual pass for ​$20​ or pay ​$80​ for a lifetime senior pass.
​Military members:​ Current and former U.S. military members and their families are eligible for a free military pass.
​Fourth graders:​ Those attending ​4th grade​, either in a classroom setting or through a homeschool environment, are eligible for a free parks pass.
​Permanent disability:​ U.S. citizens with permanent disabilities are eligible for a free lifetime pass with documentation of disability.
Before buying a pass, look at the parks you're likely to visit. Most parks charge a vehicle fee of ​$20​ to ​$40​ each, so if you aren't visiting more than a couple of parks a year, the pass might not be worth it.
A national parks and federal recreational lands pass gives you access to more than 2,000 parks across the nation for one annual fee.
Buying a National Park Pass
The National Park Service offers pass sales at federal recreation sites. If you're heading in that direction, you can simply pick one up while you're on site. This will save you the ​$10​ fee you'll be charged if you buy online or by mail.
If you don't mind paying the fee, the easiest way to become a pass owner is through the NPS website. Simply go to Store.USGS.gov/pass. If you purchase a pass at a special discount, such as the military, disabled or senior pass, you'll need to take documentation of that status with you when you visit the parks with that pass.
With so many beautiful recreation areas and amenities, free passes can help you explore federal parks without paying entrance and amenities fees. The pass options for seniors, military members and those who are disabled can make it a big cost savings, even if you're only visiting ​one​ or ​two​ parks a year.