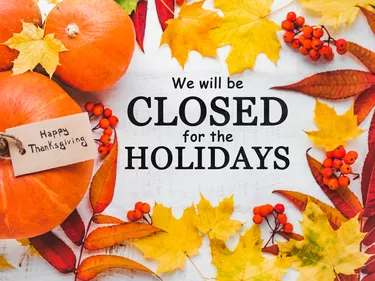 Whether you usually go shopping on Thanksgiving to score special deals or simply spend some fun time out with your family, you'll find that the list of stores open on this day has shrunk for 2021. The effects of the COVID-19 pandemic and changing customer preferences have caused companies to reconsider whether to close for the holiday and focus on bringing customers in on Black Friday. Before you head out this Thanksgiving, take a look at a list of stores that will stay open or close as well as consider what other options you can take advantage of.
What's Motivating Openings and Closings?
Before the pandemic, Thanksgiving Day would often feature early Black Friday sales that began in the late afternoon or evening and lasted through the night. Some retailers would also hold special Thanksgiving Day sales to attract shoppers and encourage more spending. In fact, a 2019 survey from the National Retail Federation showed that ​65 percent​ of Thanksgiving shoppers went due to the appealing deals rather than other reasons like the activity being a family tradition.
Starting last year, however, more major retailers, such as Walmart, have announced they'd close for Thanksgiving despite being open during previous years. Some retailers did this to give their workers the day off and thank them for their dedication during the stressful pandemic. Others also felt concerned that all the foot traffic this extra shopping day could present dangers due to the coronavirus.
A 2020 study from Accenture showed that the majority of customers surveyed preferred that stores closed on Thanksgiving to reduce the virus spread and reward hardworking employees with time with their families. So, these customer preferences have also motivated some retailers to shut their doors this day.
What's Closed on Thanksgiving Day?
You'll find that the stores closed on Turkey Day include everything from specialty retailers and department stores to grocery stores and malls. Many of the closed retailers stayed open at least part of the day on Thanksgiving prior to the coronavirus pandemic. Now, you can expect them to open the next day, often with special Black Friday hours. Here are some of the many places you'll find closed on Thanksgiving but reopening on Black Friday:
Target
Walmart
Costco
T.J. Maxx
Bed Bath & Beyond
Macy's
The Home Depot
REI
Kohl's
Best Buy
JCPenney
Lowe's
Sam's Club
Apple
Dick's Sporting Goods
HomeGoods
Trader Joe's
Foot Locker
What's Open on Thanksgiving Day?
Many of the stores open this Thanksgiving do so to provide customers with essential items, such as food, gasoline, medicines and personal care supplies. So, many of the open retailers include pharmacies, convenience stores, gas stations and grocery stores, but you can also find some department stores and specialty retailers. Here are some stores open to consider visiting both on Thanksgiving and Black Friday:
Big Lots
Meijer
Dollar General
Kroger
CVS
Five Below

Michaels
Walgreens
Dollar Tree

Family Dollar
Old Navy
Rite Aid
Whole Foods Market
If you plan to visit any of these retailers to do holiday shopping on Thanksgiving Day, check their website or call to check about hours before going. Some chains might only have certain locations open on the holiday, and this information could change prior to Turkey Day. Further, many open stores either close early or open later in the evening.
Consider Holiday Shopping Online
Many of the stores closed on Turkey Day will still offer Thanksgiving week sales online, so you can conveniently shop from home if you desire. Some retailers, such as Kohl's and Walmart, have given customers early access to Black Friday deals online and even in their physical stores. Getting an early start can help prevent problems finding gifts due to the shortages happening. Also, you can consider browsing Amazon this holiday season since they never close and will have special sales the week of Black Friday.