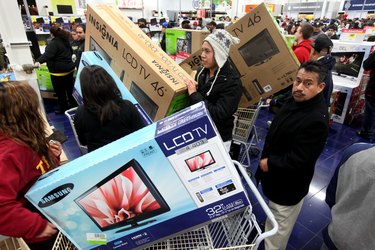 The winter holiday season has a pretty long ramp-up period, but for many shoppers, the unofficial official start date has to be the day after Thanksgiving. We've grown accustomed to Black Friday and all its mad rituals, but in 2020, with a pandemic and an economic downturn both still in full swing, we may see a lot less footage of midnight stampedes and frantic in-person shopping.
Walmart, one of the world's largest retailers and a strong competitor even to Amazon, has just gone public with its plans for Black Friday this year. While the company hopes to maintain its profits, it's looking to distribute the risk of shopping to both its customers and its workers. Rather than one blowout event, Walmart will be hosting three "Black Fridays." These sales will start online and migrate to stores a few days later.
The first begins online on Nov. 4, focusing on toys, electronics and home products. That sale will be available in stores Nov. 7. A second event based around consumer electronics (e.g., TVs, smartphones, computers, and tablets) goes live online Nov. 11 and in stores Nov. 14. If you still really want to do the after-Thanksgiving in-person blowout, that will follow another online sale beginning Nov. 25; in-store shopping will also maintain strict limits on crowds and mask compliance.