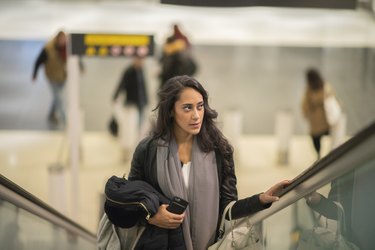 Whether you're a frequent traveler or a special occasions-only flier, you may have this suspicion that air travel has just gotten… worse these days. Sure, we can all grouse on social media about delays and cramped conditions, but didn't all this used to be better? The bad news is that yes, in fact it was better as recently as last year — but the good news is we've got the hard data to prove it.
The federal Department of Transportation has finally released its 2019 numbers on domestic flights and air carriers. Even minute statistical changes within airline industry performance can mean hundreds of flights in the real world. The year saw slight decreases in on-time arrivals, a small uptick in canceled flights, and a large jump in complaints from disabled passengers about their treatment, including more than 10,000 instances of airlines mishandling or damaging assistive equipment like wheelchairs. About six out of every 1,000 pieces of checked baggage were mishandled; according to a New York Times writeup, "More than 2.9 million bags were lost, damaged, delayed, or stolen out of the more than half a billion bags the major airlines processed last year."
All that said, passengers complained a little less to USDOT in 2019 than in previous years: "In 2019, the Department received 15,332 complaints, down 1.4 percent from the total of 15,544 received in 2018." Perhaps it's worth investigating some other options for getting from place to place. If you want to get somewhere on time, go international. And if you're going less than 300 miles, consider the train instead.