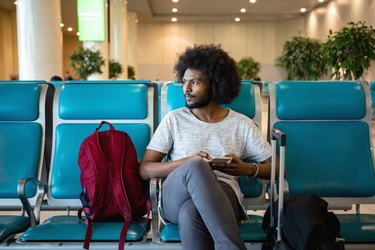 There's little you can rely on more than the airline industry's unreliability. In 2019, more than 20 percent of U.S. flights were delayed or canceled, according to federal statistics. Your travel experience can get better — you just have to book an international flight to experience it.
This week, the consulting firm Cirium released its On-Time Performance Review for 2019, which analyzed more than 100,000 flights daily to reach its conclusions. The very topmost airline for on-time arrivals globally might surprise you: It's Russia's Aeroflot. In fact, 95 percent of flights out of Moscow's Sheremetyevo International Airport left on time. Just after Aeroflot comes Japan's All Nippon Airlines (ANA).
The OTP also divides its rankings into regions and by cost. Fans of John Mulaney's standup bit about Delta Airlines may be surprised to learn that it came in No. 3 worldwide and was tops in North America for on-time departures. After Delta, Alaska Airlines and Southwest Airlines round out the top three slots.
Whatever air carrier you're flying, you'll probably be wrestling with some inconvenience no matter what. Google tries to help you skirt delays by keeping tabs on upcoming flights, but that won't change the jaw-dropping size of the onboard bathrooms. However, if you do end up stuck aboard an airplane, you don't have to take the indignity of it all sitting down. Read up on your rights as a passenger; you may be entitled to compensation of some sort, even if it's not a dramatic, 17-hour delay.