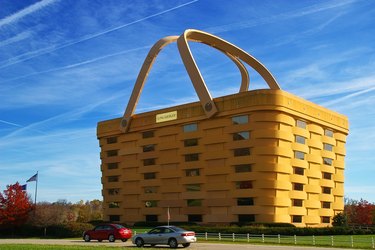 Central Ohio, believe it or not, is becoming a hot place to wind up. There are all kinds of places to stay in the Columbus area as you scope out this new Midwestern hipster-magnet. That said, if in the future you feel like venturing a little deeper into the Buckeye State, you'll be rewarded with one of the strangest hotel experiences a traveler could want.
The Canton Repository reported this week that the former headquarters of the Longaberger Basket Company in Newark, Ohio, will be converted into a luxury hotel by 2022. If that doesn't mean anything to you, consider this: The building, completed in 1997, looks like a gigantic wicker basket. At seven stories tall and complete with handles, the Longaberger HQ is as surprising inside as it is out — although it could definitely use a lot of upgrades.
If you grew up in Ohio or the Midwest in the '90s, chances are you remember the sought-after baskets in your home or a friend's. Going forward, the Longaberger HQ's developers are hoping to attract millennial travelers and gig workers; the plans tentatively include a coworking space for this site 30 minutes east of Columbus. Of course, given the recent spectacular and head-scratching implosion of WeWork, those plans could change going forward.
Either way, keep an eye on the Longaberger Basket building. "It will be a boutique hotel, and we think one of the grandest in the state," developer Steve Coon told the Repository. "Where else are you going to find a 185-foot basket? It will be a destination."