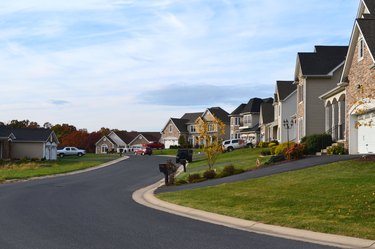 If you didn't grow up in one, you probably know someone who did. They've been called McMansions since they started appearing in suburbs and housing developments in the '80s and '90s. Once you realize how architecturally baffling they are, as critic Kate Wagner continues to point out, it's a wonder that they took over the housing market for all those years.
Now that millennials are finally (sort of!) getting into homeownership themselves, a bunch of houses are available for purchase. They're selling at dramatically low prices — the ​Wall Street Journal​ reports that houses built in the Sunbelt before 2012 are going for half their original worth — but even saddled with debt and low-paying jobs, the next generation is responding to McMansions with a collective "thank you, next."
These houses are just not built for today's economy and lifestyle preferences, in a lot of ways. They're largely located in distant, disconnected suburbs, when today's young adults want walkable communities and nearby public goods, like parks and libraries. Aesthetics play a role too — there's not much that's Instagram-friendly about most McMansion interiors without dramatic renovation. Finally, those huge, open-air spaces are ridiculous to heat and cool, which doesn't mesh well with a generation concerned about climate change, utility costs and sustainability.
It doesn't help that even with the deep discounts on McMansions, millennials are likely to pay almost 40 percent more for their first home than the baby boomers who built the McMansions in the first place. With that kind of markup, it's way more preferable to wait for what you want.