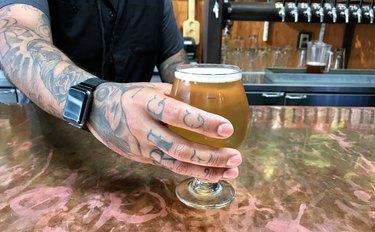 Somewhere in your head — and hopefully out in the real world too — is your perfect neighborhood. Maybe it's close to a park, or a good library, or a great restaurant scene. Maybe it hits that real estate sweet spot, improving both your quality of life and your property values.
That's worth considering as you begin your search for a home. Urban planners at the University of North Carolina at Charlotte have hit upon a likely candidate for best of all worlds. In a new study released this week, the team found that craft breweries have a measurable net benefit on housing prices in urban areas. If a craft brewery opens within half a mile of your condo, its sales price can increase by 3 percent; if you're selling a single-family home under those conditions, you can get an extra 10 percent.
One well-observed element of the craft brewery explosion is its connection to gentrification. USA Today wrote about the effect in 2013; it's also been noted by The Atlantic, Curbed, and The New York Times. This isn't the same as a fancy bistro opening up somewhere, however. As CityLab's Richard Florida wrote in 2017, "[B]rewpubs and microbreweries sometimes locate in distinct neighborhood types. This is because brewpubs are allowed to locate in restaurant and retail districts, while craft breweries are often restricted to industrial districts."
A lot of related research focuses on policy proposals and zoning regulations. As a prospective homeowner and a down-the-line seller, it's worth keeping an eye out for value-adding niceties nearby.