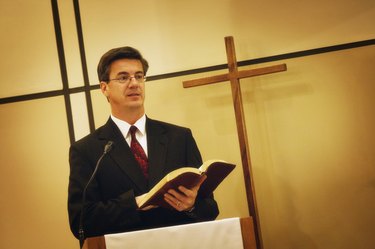 Pastors lead Christian congregations in churches of all sizes around the globe. For the most part, people may be drawn to this line of work because they have a calling to help others and serve God. To be fiscally responsible, they will also need to consider how much money they can expect to earn and budget accordingly. Prospective pastors can plan ahead for this by thinking about the area and size of church they want to work at. As a guide, the Presbytery of San Francisco posted that the average salary for the pastor of a 50-member church was around ​$46,000​.
Although every house of worship has different needs, you can get a good idea of the job description of a pastor from Bethlehem Baptist Church. The main focus is congregational care, which includes leading weddings, funerals, counseling, relationship building and crisis care for congregants. Pastors also manage short- and long-term goals to achieve objectives that are in the church's best interest. This can include spearheading fundraisers, hiring staff members, organizing missions or retreats and overseeing classes.
Day-to-day responsibilities can include leading worship services, preaching sermons and overseeing the services. Many also create and implement budgets and prepare recommendations and proposals for operations. Pastors serve as the face of their churches and need strong interpersonal skills to be able to forge strong relationships with staff and congregation members. They may also get involved with marketing projects geared to increase membership and improve the church's reputation.
Pastor: Education Requirements
According to Online Christian College, would-be pastors feel a "call" to the ministry. If you have felt this, arrange to speak with a spiritual leader or local pastor in your community to discuss it further; this person can help you determine if you have indeed found your calling.
The educational requirements for pastors vary depending on the denomination of Christianity, but you can start by becoming involved with your church and attending Bible education classes. While many churches do not require their pastors to have formal education, most want them to have a mentorship and spiritual direction from church leaders.
Larger churches want their pastors to have a bachelor's degree in pastoral studies, biblical literature or theology. These graduates may then obtain positions as pastoral assistants, youth pastors or interim pastors. Churches have different processes for ordaining their pastors, but you can usually work with your pastor and church to get started. There will be a formal application process, and you may have to attend more classes and go through evaluations. If all goes well, there will be an ordination ceremony, and hopefully, the pastor pay will fit your needs.
Salary.com shows that the average senior pastor pay in this country is ​$99,980​, with a range of ​$65,974​ to ​$125,389.​ Reach Right Studios shows more variance and shows senior pastor salary by church size. According to this source, senior pastors with congregations up to ​150​ members earn ​$4,800​ to ​$109,000​; with churches that have more than ​1,200​ members, the salary ranges from ​$92,255​ to ​$189,053​.
The worship leader salary by church size range was considerably lower, as expected. For up to ​500​ members it was ​$45,999​ to ​$62,745​ and for more than ​1,200​ members it was ​$54,022​ to ​$92,291​. The U.S. Bureau of Labor Statistics posts that the states that have the highest employment levels for clergy members are: California, New York, Oregon, Florida and Texas. The highest clergy salaries are earned in the District of Columbia, California, Washington State, Delaware and Massachusetts.