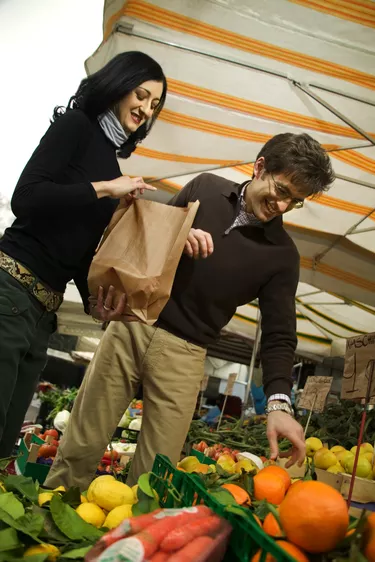 A pole barn is a series of poles that support a roof. It doesn't require siding for stability, but often is wrapped in metal. It may have sliding doors to facilitate moving cattle, hay bales or farm equipment in and out. The condition and structure of your pole barn determine some of the potential uses. For example, a pole barn with just the roof and no walls wouldn't be appropriate for storing equipment that should be kept out of the rain.
Retail Sales
When a pole barn has an easily accessed location and isn't too far from main thoroughfares, it could be leased out as a craft store, farmer's market or antique store, or a combination of all three. You have several options: find one person to rent to, rent booths for a monthly fee to several different vendors, or charge a rental fee based on percentage of sales. Rent could also be based on a small monthly charge and a royalty on the sales generated. Another alternative is to charge a daily fee for space in your pole barn on a first-come, first-served basis. This works for farmers' market vendors who may not want to commit to the same location for several months.
Reception Site
Attractive pole barns with freshly painted interior and exterior walls are venues for family reunions, rustic-themed weddings and corporate country picnics -- even children's parties. Contact independent meeting planners, party planners, wedding consultants and caterers near the pole barn location to let them know it's available. You might consider waiving the rental fee for the first few events if you can take photos of the events for your marketing brochures and website.
Storage Facility
The barn should have sides and doors that lock to serve as a storage facility for equipment, off-road vehicles, motorcycles and perhaps even boats. If that's not possible, the barn could still be used for storage of feed, grain and hay if it has a sturdy roof.
Marketing Strategies
No matter what option you choose to make money by renting out your pole barn, you need to create a marketing plan with strategies that let your potential customer base know about your barn's availability. A storage facility owner could simply put an ad in the local newspaper or online want ads for his city. Using the barn as a crafts store could be promoted through contacting local craft groups by direct mail or visiting craft shows and handing out your brochure. Creating a website gives you a valuable marketing tool to show prospective customers what the pole barn looks like, the services you are offering and what you charge.
Legal Issues
Obtain liability insurance to protect you in the case of theft or fire damaging stored equipment in your barn, as well as for injuries sustained by guests attending events or when shopping in your tenant's store located in the barn.