You love the feel of a hot tub's warmth and the soothing massage of the water jets. Unfortunately, you just can't handle the big price tag. So, why not build one yourself. You have many different ways to build a hot tub--from elaborate mosaic-tiled masterpieces to simple, heated horse troughs.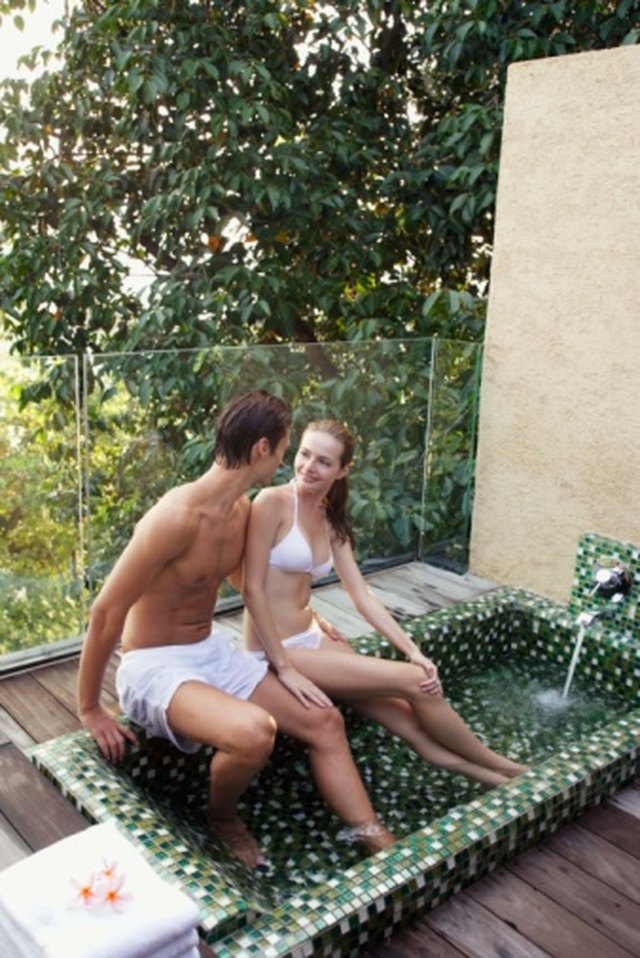 Step
Set a budget and determine whether you will be creating a more elaborate bath complete with tile and fixtures or if you will pour a simple concrete shell with basic surfacing and plumbing.
Step
Find a good place to put your hot tub in your backyard. Give yourself plenty of space to build a hot tub that will accomodate guests. In addition, consider the view. This is where you will spend time relaxing, after all.
Step
Plan out your setup, then measure and mark your spa space. Get out the shovel (or rent a backhoe) and dig a hole the size you wish for the hot tub. Once you have the size and shape you prefer, fill the bottom of the hole with cement and let it set up for at least 24 hours. Then cover the now-dry cement area with a thick polyurethane sheet.
Step
Once the bottom concrete has set, you can begin to build the outer walls with Thermalite brick (aerated blocks that ensure a uniform thermal performance and can handle temperature changes). You can also build a seating area along the outside wall of your tub area.
Step
Cover and backfill the outer wall area with additional quick-set concrete and leave for another 24 hours.
Step
Add the plumbing to the hot tub. You can purchase hot tub plumbing kits from large home improvement stores as well as online and at smaller hot tub specialty shops.
Step
Select the position of the water jets; drill holes in the brick and insert them. Then put the rest of the plumbing together using the instructions in the kit or package.
Step
Tile and grout the tub or apply concrete surfacing. Allow to dry before using or attempting to fill your tub with water.
Step
Attach a small water heater unit that is designed for hot tubs, fill with water and get ready to enjoy the pleasure of having your own backyard hot tub.
Step
Visit your local spa or pool shop for information on the appropriate chemicals to keep the water chemistry in your hot tub within the correct range for your climate and water supply. You may need to add chemicals or treat the water. The water in a hot tub must have the right pH, total alkalinity and calcium hardness -- whether it is a homemade or manufactured spa. Take a sample of your water to your local expert for personalized advice.