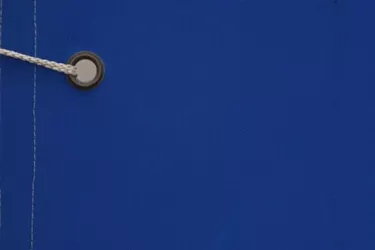 You can make your own patio sunshade awning, also known as sun sail, and create a shady resort-like feel in your back yard.
Step 1
Purchase one or more canvas drop cloths in the 9 x 12 foot size (or smaller depending on your patio). These come in several colors; white, oatmeal and yellow, and average between 20 and 30 dollars.
Step 2
Assess your patio area and decide where you will put the sun shade or sun sail awning. You will need anchoring points for the sun shade that are higher than the walls of your patio. Overhead beams can be used, but if you do not have that, you can install wooden 2 x 4's or 4 x 4's to the outside of your patio walls and have them extend upwards high enough so that the shade can be hung from them. Use metal brackets to wrap around these to stabilize them.
Step 3
Install metal hooks onto each support point, whether it is on the overhead beam or the installed supports.
Step 4
Install one grommet at each corner of your canvas shade. Tie rope to each grommet and then to each hook, thereby hanging the sun shade. If it is drooping too low, add more support beams and grommets to stretch it out more taut.
Tip
Make sure all metal is rust-proof You can paint your canvas with fabric paints. Stripes are a great motif. Be sure to heat-set or seal the paint before exposing to moisture. Read directions on fabric paint Instead of tying rope onto hooks, make a noose or loop that you can pull to tighten and that you can easily slip off in order to take the shade down
Things You'll Need
Canvas drop cloth (9 x 12)

Brass or stainless steel grommets

Hooks

Rope

Support beam