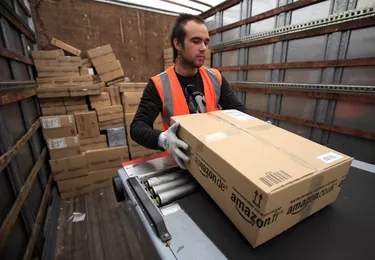 The Amazon name and logo both show that the company wants to satisfy a wide variety of tastes among consumers and businesses. And, naturally, among diverse tastes in merchandise are also varied preferences in payment methods -- although paying with jars of quarters still isn't an option. Paying with an Amazon checking account is a veritable option, but there are some restrictions that could prevent your payment from going through.
Background
Amazon does cater to businesses, but for the most part Amazon is about the individual consumer. One way this evident is that Amazon doesn't enable savings, corporate or business bank accounts to be linked to an Amazon account. So, to purchase for your business on Amazon with a checking account, you'd have to link your personal checking account to your Amazon profile.
Authorization
Sometimes Amazon isn't able to authorize a payment from your checking account after you place an order. Typically, in that case Amazon will send you an email with instructions for how to correct the issue. Otherwise, sign into your Amazon account and verify that your driver's license, financial and other personal information is accurate. If that's all fine, then it's possible there were insufficient funds in your account. If that's not the case, then Amazon encourages you to get in touch with the company TeleCheck Services (link in Resources).
Restricted
There are certain products that Amazon won't let you purchase with a checking account. These include gift cards, Amazon Prime memberships, digital downloads such as MP3 files, and, depending on your account history, purchases that exceed a certain dollar amount. Presumably, Amazon wants to protect checking accounts from being ravaged by fraudulent purchases, as gift cards and entertainment media -- such as that available from Amazon Prime memberships -- are popular items and attractive purchases for cyber-criminals.
Alternative
If you know that you have enough money in your checking account and you want to make an Amazon purchase immediately, you can try using your debit card instead. The end result is the same, since money will be drawn from your checking account. It's just that the gateway to your account will be different -- through your debit card rather than your bank's routing and checking account numbers. To add a debit card to your account, click "Manage Payment Options" on your account home page.