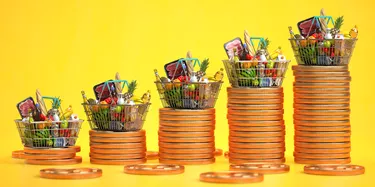 Prices are up for everything, from food to utilities to fuel. In fact, the Bureau of Labor Statistics reports that the consumer price index is up ​7.9 percent​ since the same time last year. With the right apps, you can beat inflation and stick to your budget without drastically changing your lifestyle.
Price Comparison App: ShopSavvy
The easiest way to beat a rising inflation rate is to make sure you're paying the lowest price for everything. With the right app, you can simply snap a picture of an item and get a variety of purchase options. You can then scan the list to find the lowest price.
One easy-to-use comparison app is ShopSavvy. With ShopSavvy, you just scan the barcode of a product and see a list of nearby retailers along with prices. It even adds in online retailers that can ship the item to you.
Cashback apps can help you save money on purchases you're already making. Often working either as an app or browser extension, these tools let you log your purchases at the grocery store or on popular retailers like Amazon and earn money back for the money you spend.
But not all cashback apps are created equal. Rakuten is a proven app with Better Business Bureau accreditation that is well-reviewed by those who have used it. You simply do your regular shopping through the Rakuten app, website or while using the browser extension and you'll automatically get credited for the purchases you make.
With the right apps, you can beat inflation and stick to your budget without drastically changing your lifestyle.
One way to beat higher prices is to be aware of them. A good budgeting app like Mint can help you track what you're spending so that you can decide where to cut back. Mint is a popular personal finance app in large part because it acts as a sort of financial advisor, letting you know where you can save money.
One useful feature that's built into Mint is the subscription monitor. This lets you see the money you're spending each month so you can shave some off your bottom line to make up for rising grocery and gas prices.
Those who hold memberships to warehouse clubs like Sam's and Costco have seen even more value than usual lately. Members get discounts on gas at those locations. But buying in bulk can save you money, especially if you have a larger family.
Boxed lets you enjoy the benefits of a warehouse club membership without leaving the house. Simply sign up for a membership and start filling your cart. The purchasing power that comes from Boxed's warehouse-style operations helps you spend less for each item.
Sliding money into your savings account can be challenging when finances are tight. But high inflation rates or not, you likely can afford to lose a little change each day. Spare change apps, also known as round-up apps, connect to your debit or credit card and automatically round each purchase to the nearest dollar, putting that change into your savings.
Acorns goes beyond savings to let you invest the money into the stock market, put it into your retirement savings or even purchase bitcoin with your extra change. You can also use Acorns as your full banking solution, thanks to its checking account option. If you have children, there's an Acorns account that helps kids get started on their investments.
Managing your money goes beyond using spreadsheets and calculators. There are now so many tech tools available, you can get help with your finances. This can help you continue to achieve your goals despite rising prices.