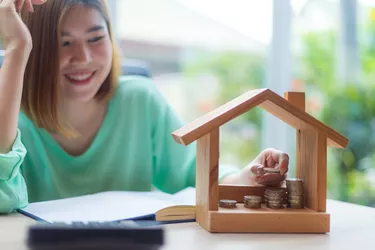 Do you have money set aside for a rainy day? If not, you aren't alone. A 2019-2020 report from the Federal Reserve found that only ​53 percent​ of consumers had money set aside for a rainy day. Round-up apps help you move some money into a savings account so that you can start putting money away for the future.
What Is Round-Up Savings?
If you're like most people, the majority of your paycheck goes toward paying bills and putting food on the table. But over time, you'll start to realize months, even years, have passed without you putting a dime into savings. Automatic savings make it easy to ensure that you're at least moving small amounts over with each paycheck.
But whether you're auto-saving ​$10​ a year or ​$200​ a month, you might notice the amount coming out of your budget. Round-up savings apps, also known as "spare change" apps or accounts, operate like a piggy bank, moving pennies, nickels, dimes and quarters into your savings in a way that you likely won't even notice.
Traditional Banks With Round-Ups
Although you can find plenty of round-up apps, there are also some traditional lenders with round-up savings features. If you already have a checking account connected to savings, check with your bank to see what programs they have to help you automatically move money over.
Some smaller lenders have similar programs, so if you want to keep it local, consider checking into credit unions and community banks. In Arkansas, for example, Southern Bancorp lets debit cardholders opt in for round-up savings. More local banks may offer this feature as round-up apps become widespread.
As handy as any savings program can be, it's important to pay close attention to how hard your money is working for you.
Round-Up Apps to Consider
Technology has given traditional lenders plenty of competition. You can find online banking providers that have competitive Annual Percentage Yields (APYs) and savings apps with advanced automatic savings features. One of those advanced features is round-ups.
The good news is, there are plenty of apps that offer round-ups as an option. This wide selection means you can choose the one that offers the best features at the lowest price.
​Acorns app​: Purchases made with your Acorns Visa™ debit card will be rounded up to the nearest dollar. Once you reach ​$5​ in round-ups, Acorns will automatically move the money to your savings account. Acorns lets you link any credit card to round up all purchases.
​Chime app​: When you use your Chime Visa® Debit Card for purchases, Chime rounds up to the nearest dollar. Chime is a full-featured bank account, so you won't have to worry about moving the money to another account to use it.
​Qapital app​: Qapital uses round-up rules to move spare change into your savings account. You can choose to round to the nearest dollar, or you can boost it to ​$2​ or ​$3​ to make your savings add up faster.
As handy as any savings program can be, it's important to pay close attention to how hard your money is working for you. Look at the APY and, if the lender doesn't offer competitive rates, move the funds to another account. You'll likely find that you can get a better rate with a money market account or CD.
It's also important, as you're considering a savings program, that you don't skip the research part of choosing a lender. Look closely at the fees and read the fine print for any disclosures that might negate any benefits you'll get from the program. Make sure any lender you choose has "member FDIC" on its website. You can check FDIC status using the FDIC's BankFind tool.
Rounding to the next dollar can be a great way to reach your savings goals without having to sacrifice spending money. Before you choose a lender, though, consider other features, such as fees and how much interest you'll make on your savings balance.