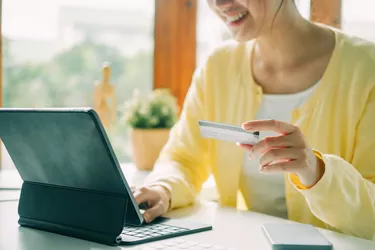 To add a safety measure when using your MasterCard online, you can register your card with the MasterCard SecureCode program. There's no fee to register your card and you protect yourself from unauthorized online use of your MasterCard. Here's how it works: any time your MasterCard is used online, with merchants that are signed up with SecureCode, your personal code must be entered for the purchase to be authorized. The program registration process is simple.
Step 1
Visit the MasterCard website to access the SecureCode signup page.
Step 2
Enter the name of the financial institution that issued your MasterCard and click on "Go." If you can't find your financial institution on the site, then you can't register with SecureCode. The list of participating financial institutions does change, so check back regularly.
Step 3
Click on your financial institution's name from the list, which takes you to its registration page.
Step 4
Register by clicking on "Register Now" and accepting the terms. Type in your MasterCard number and your personal code to register the card with your code. Once this is complete, you'll be asked for the code when making online purchases from a merchant that's enrolled in the program.