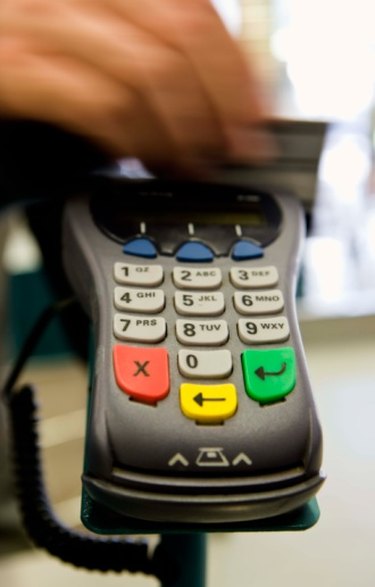 An electronic benefit transfer, or EBT, account is part of a system that allows the beneficiaries of government welfare programs to transfer funds to a retailer to pay for items purchased. EBT account holders use EBT cards, which are like a debit card with a PIN number. The government refills the same amount of funds into a beneficiary's EBT account on a monthly basis. Those who are eligible for an EBT account include those who receive food stamps through the Supplemental Nutritional Assistance Program, or SNAP, and the Temporary Assistance for Needy Families, or TANF, Program.
Step 1
Set up a meeting with a caseworker at your local Department of Health and Human Services, or DHHS, office. The caseworker can tell you about EBT account programs for which you may qualify and give you applications to complete.
Step 2
Complete the DHHS applications. You will need to provide the full name, birth date and Social Security number for everyone in your household, including any children. Additionally, include your phone number, physical address and mailing address. Part of the applications may ask you if you or your children are in school, as well as your level of education. In the income section of the applications, you will need to indicate if you or any of the other adults in the home work, along with the name and address of your employer. Also, fill in the sections regarding your household income for the number of indicated months, including any child support you may receive or funds from other sources. Attach proof of your income to your applications, such as paystubs, bank account statements or tax returns.
Step 3
Call the DHHS office to setup another appointment with your caseworker.
Step 4
Meet with your DHHS caseworker and bring your completed applications. The caseworker will enter the information you provided into the computer system to see which programs with an EBT account you are able to access. Your caseworker will explain these programs in detail for you and let you know about your responsibilities as a program beneficiary.
Step 5
Wait for your EBT card. Depending on the state you live in, your DHHS caseworker will give you an EBT card right away or within 30 days. When you receive your EBT card, your caseworker will help you set up a personal PIN number, explain how to use the card, describe the products you can purchase and tell you which stores accept EBT payments.