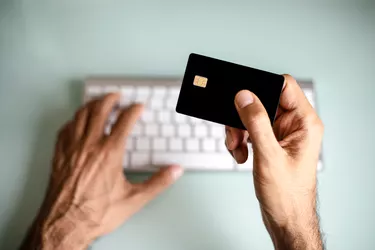 Netspend offers prepaid cards through Visa and Mastercard that allow you to get an account without having to go through a credit check or maintain a minimum balance. This can be convenient for having your paychecks direct deposited, receiving tax refunds and stimulus checks and paying for daily expenses. Logging in to Netspend requires simply entering your login credentials and registering your device or browser. However, you may need to take extra steps to get your account registered for online access first.
Setting Up Your Netspend Account
If you ordered the card on the Netspend website, the process already included creating your user name and password as well as getting a one-time code sent through email to register your device for security reasons. You'll then be able to log in to your account without worrying about further steps.
However, if you bought your card at a local store or received it any other way, you need to take an extra step beyond activation to register for online access. You can find a "Register for Online Account Access" link at the bottom of the Netspend login page. This will require you to enter your card's number and security code and provide some contact information that will verify your identity and get your account ready for use.
Logging In to Netspend
Once you've activated and set up your online account, you can click the "Log In" link at the top of the Netspend home page. After you enter your user name and password and click "Log In," you might get prompted to have a device activation code sent to your email address, and you'll need to enter that on the form. This happens when you try to access your account from a new browser or device. You'll then get taken to the online account center where you can manage your account.
If you prefer managing your Netspend account on your phone, the company has mobile apps for Android and iPhone that you can download. Once you install and launch the Netspend app, you'll see a "Log In" button that works the same way as the website's process with the access code needed. When logging in, you also get the option to use facial recognition instead of your login details if your phone supports that. You'll get prompted to accept some agreements to use that option.
Recovering Netspend Account Login Details
When you can't remember your user name or password, you'll find links to recover your account on the login screen on the Netspend website and mobile app. To reset your user name, you'll need your email address, card number and security code. To reset your password, you'll need all of those along with your user name. You'll get an email that will help you recover your user name or set up a new password.
Managing Your Netspend Account
Your Netspend account will allow you to use the website or app to conveniently perform various tasks. These include adding money to your card through bank transfers and mobile check deposit, seeing your card balance, setting up direct deposit, viewing card fees, getting help through customer service and even closing your Netspend account. You can also look up locations where you can reload the card, check and dispute transactions and set up money transfers to your contacts.
If you want to use the Netspend phone system, you can call 1-866-387-7363. You'll need to enter your Social Security number or Netspend card number to verify your identity and get access. Follow the prompts to manage your account or get live support.