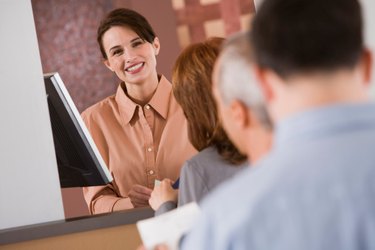 The days of widespread free checking at banks are no more. The nation's biggest banks have now added fees in exchange for maintaining checking accounts. These banks usually feature conditions that must be met to maintain your account for free. Several regional banks and credit unions still provide free checking for their customers with no strings attached.
Regional Banks with Free Checking
U.S. Bank and Banner Bank offer free checking, but require a $50 opening account balance. Bank of the West and Pacific West Bank each require opening deposits of $100 to open a new account. PNC, named "U.S. Bank of the Year," in 2010, by "The Banker" magazine, has no minimum balance requirements and no monthly service fees.
Credit Unions
According to a 2010 Bankrate survey, 39 out of 50 of the largest credit unions in the country still offer free checking. Navy Federal Credit Union, Federal Credit Union, Police and Fire Federal Credit Union, School's First Federal and United Nations Federal Credit Union all require $1 to open a new account. First Federal Credit Union requires $25. None of these credit unions requires monthly maintenance fees.
Minimum Balance Fees
Bank of America charges $8.95 in monthly maintenance fees if you have less than $1,500 in your account and don't make at least one direct payment from your account each month, as of 2011. Chase Bank charges $12 a month in fees unless you maintain a minimum of $1,500 in your checking account or $5,000 across all Chase deposit accounts. Another way to avoid these fees is to make $500 worth of direct deposits a month. Wells Fargo requires a $1,500 account balance to avoid its $10 monthly fee. BB&T charges $12 unless you maintain a $1,500 checking balance or $6,000 in combined BB&T balances.
Other Requirements
Citibank charges $8 per month unless you maintain the specific direct deposit, debit card usage and online bill payment requirements. These requirements vary. Wachovia offers a basic checking account that charges a $10 monthly fee. It doesn't require a minimum account balance, but does charge fees for paper statements and overdraft protection. Most major banks also allow free checking if you do all your banking online and forgo paper statements.