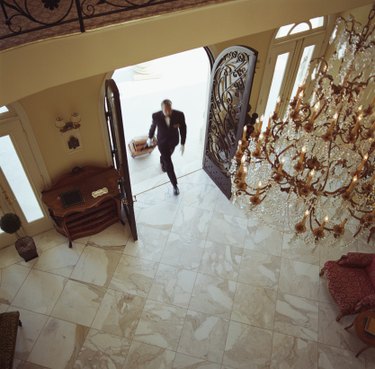 A concierge is far from being a modern concept; the word originated in France during the Middle Ages to describe royal palace guards protecting the king while he remained in his castle. The concierge held the keys, safeguarding entry to castle rooms. Today, concierges work in hotels or corporate environments to facilitate scheduling or anticipate needs for clients. Although there's no current government standard for concierge licensing or certification, you may find that formal training helps you land a job.
Job Description
Concierges make their clients' lives run smoother by organizing and managing their tasks and responsibilities. As a concierge, you might make restaurant reservations, arrange transportation around town or from the airport, take messages for guests or provide insider tips on entertainment or local attractions. Concierge responsibilities might also include booking spa appointments, providing information about health services and checking on maintenance requests. Although concierges receive a salary from their hotel or corporate employer, many rely on gratuities paid by clients to augment their income.
Business License
Concierges working for a hotel or hospitality-focused company don't need a license to perform their services. However, if you're starting your own concierge company then you will need to obtain a business license. If you're calling your concierge company something other than your name (for example, "At Your Service Concierge") then you must apply for a fictitious business name license or "doing business as" license. As with any business, concierge companies must have a tax identification number and liability insurance.
Certificates
Some hospitality professionals may choose to earn a concierge certificate as a way of acquiring experience and training. Some schools and colleges, including community colleges, offer hospitality courses geared toward preparing professionals for working in hotels, restaurants, travel agencies and other service-related industries. These certificates aren't required, so think carefully before committing time and money. Classes might teach skills in communication, ethics, guest responsibilities, food and beverage information and professionalism. Some certificate programs have internship components, although this requirement may be waived for students already working in the hospitality industry. Rookie concierges with little formal training can use internship opportunities for valuable on-the-job training.
College Degrees
Large or reputable hotels and hospitality establishments might prefer that their concierges hold a college degree in hospitality, tourism or related fields. While not required, this can increase competitiveness among other job candidates. Many locations will require that their concierge hold at least a high school degree; some companies may accept an associate degree.