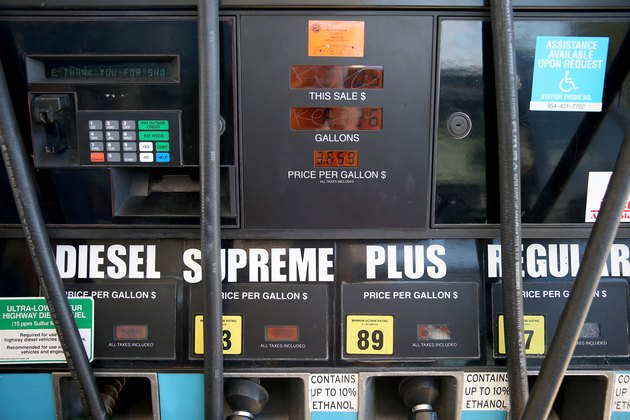 With 2,640 supermarkets and 1,240 gas stations as of 2014, Kroger is not only one of the nation's largest grocery chains, it is also a major gasoline retailer. With that many outlets as well as participating Shell gas stations, the Kroger fuel points program offers frugal shoppers the opportunity to earn significant discounts on their gasoline purchases.
Accumulating Gas Points
When you use a Kroger Plus Card, which you can get for free at any Kroger store, you receive 1 point for each dollar that you spend on groceries. So, every $100 that you spend nets you 100 points, entitling you to a $0.10 per gallon discount on a gasoline purchase. With each 100-point increment, you earn an additional $0.10 per gallon discount, up to a maximum $1.00 per gallon. Points are totaled monthly and cannot be aggregated -- if you do not use points accrued in one month by the end of the following month, you lose them.
Tracking Your Points
You can check your point totals for the current and past months by going to "My Account" on the Kroger web site and entering your Plus Card number. You can also find the total printed on your grocery receipts. Your monthly points are good for only one fill-up -- if you make a small purchase, you still use all your points for the month.
Redeeming at Shell
Shell limits the per-gallon discount to $0.10, so you can only redeem points in increments of 100. Not all Shell stations participate in the Kroger program, so be sure to check. The fill-up at a Kroger pump is limited only by the size of your gas tank, while Shell puts a 35-gallon limit on your discounted purchase. While you scan your card at Kroger, at Shell you insert your card or enter your number. (If you plan to pay inside, see the attendant before inserting your card.)