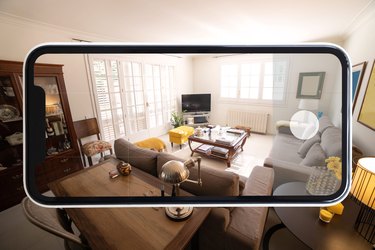 Rooms To Go is one of the top independent furniture retailers in the United States with 2,500 sales associates across 10 different states. The company has been recognized for their outstanding recycling efforts, their dedication to giving back to the community and their positive customer service experience. Customers who don't live near one of Rooms To Go's physical stores can make purchases online. Depending on your circumstances, you may need to create either a customer care account or a credit account.
Rooms To Go Credit Application
You can apply for a Rooms To Go credit account online and get a response instantly. The card is designed to allow you to furnish your home now, but pay for it over time, which can be helpful if you are just starting out. You'll find the link to apply on many of the company's web pages including the home page if you scroll down toward the bottom of the page. Click on the "Apply Now" button to begin the application.
Type the last four digits of your Social Security number in the provided box. The company will use this information to prefill the name, address and contact info boxes to speed up the application process. Next, enter your cell phone number, or click the "I don't have a mobile number" link for alternative instructions. Verify the cell phone number using the one-time code sent by Synchrony Bank, the provider of Rooms To Go credit cards.
Fill out any boxes that weren't prefilled earlier. This will include your date of birth, initial purchase amount and your net income from all sources. At the bottom of the application, you'll see a box to "Add a joint applicant." Check the box and fill out the information for the joint applicant if you wish to add a someone else to your account. Click the "Continue" button and verify that the information you entered is correct. Submit the application and wait for a response.
Important Card Information
A Rooms To Go credit card, provided by Synchrony Bank, will arrive within 7 to 10 business days once approved. As of August 2021, the purchase annual percentage rate (APR) on the card is 29.99 percent with a minimum interest charge of $2; however, Rooms To Go offers 60 months of interest-free financing, so long as the purchase price is over $599.99. Cardholders will have the ability to make equal monthly payments over the course of the 60 months without having to pay any interest. Rooms To Go does require credit card users to make a down payment on their purchases. This down payment must be enough to cover both the taxes and the delivery charge.
To make payments on the card, or to check purchases, you'll need to set up an account with Synchrony Bank. This process is simple and requires that you enter your credit card account number and create a username and password. Afterward, you can log in at any time.
Create a Customer Care Account
Whether you make a furniture purchase with cash or credit, you'll need to create a Customer Care account to submit a request for service or parts. To create this account, head to the Customer Care page and click the blue "Register Now" button. Follow the prompts to enter your information, including your email address. Once you've finished, check your email and click the link sent by Rooms To Go for verification.
Once you've created the Customer Care account, you can go back to the Customer Care page and use the Rooms To Go login to access your account. From there, you can make a request for service or parts, so long as it's for a product that you have received within the last 12 months.