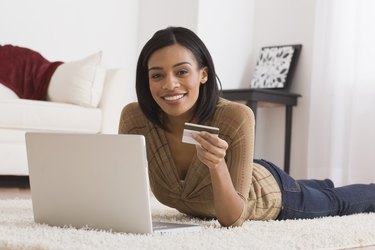 Personal checking account software can help you to manage your budget, pay bills electronically and monitor account balances. If you're living hand-to-mouth, the software can alert you to potential problems, such as an overdrawn account. People who regularly track their money tend to grow wealthier over the long term in comparison to people who don't, according to "The Wall Street Journal" guide on "How to Choose and Use Financial Software."
Types of Software
When you drive, you can control your car through the dashboard – a central place with gauges for gas, speed and temperature. Financial software acts like a dashboard for your personal checking account, enabling you to manage your finances from a central place. There are two main types of software. Known as desktop solutions, money management programs – Microsoft Money, Quicken or iCash – can be installed on your computer. The second type is a web-based program, such as Mint, Geezeo or Wesabe. The advantage of web-based software is that if your computer crashes, your financial data remains unaffected.
Key Features
The most important feature of personal checking account software is its support of your financial institution. If you can't plug into your banking data, you're back to using a spreadsheet or pen and paper. The software should allow you to set up budgets, customize categories and create bill reminders as email or text alerts. According to Mason Currey's 2008 article "Show Me My Money" in "Slate," a feature missing from most software was the ability to see pending transactions. If you're down to the wire, you may have to log in to your online checking account to view an updated balance.
Security Concerns
According to PC Mag, the majority of personal finance applications are as secure as the credit cards tucked in your pocketbook. Personal checking account software typically uses 128-bit encryption – bank standard – or even military-standard 256-bit encryption. You should check to see if the software has been verified by provider of Internet infrastructure services, such as VeriSign, MacAfee or TRUSTe. Because your password is your first line of defense against theft or fraud, set up a strong password according to the software's instructions.
Self-Service Deposits
While consumers can already use their cell phones to track personal checking accounts, some banks offer clients a way to deposit checks via phones with cameras. For example, depositors enrolled in Chase Bank's online program can use a mobile application to take pictures of an endorsed check and route them to Chase, according to Becky Yerak's 2010 article "New Wave of Banking: Check Deposit via Smart-Phone Photo" on Phys.org. Chase confirms the deposit by sending you a text message. Because many banks depend on foot traffic at retail branches to cross-sell financial products, they remain resistant to self-service deposits.