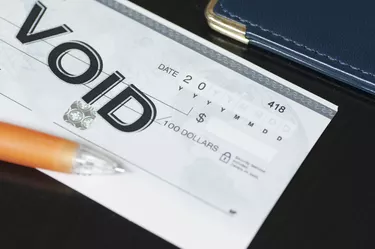 Though paper checks are used less often than debit cards and credit cards, you still may be asked to provide a voided check to set up Automated Clearing House transfers, online bill payments or automatic payments to or from your checking account. Reviewing how to get a blank voided check will help you set up your electronic payments faster.
To ensure they have the correct bank routing number and account number for you, some businesses request a blank check that you mark as "Void." Some companies may ask for a blank, voided check to set up automatic bill payments from your checking or savings account.
Your voided check has all the bank account information the business needs to enter into their system and serve as proof that you authorized the charges or deposits they make to your account. If you have more than one checking account, be sure to provide your employer or other business with the voided check from the exact bank account you want them to use for transactions.
However you do it, don't write across the account number or bank routing number at the bottom of the check. Those digits need to be legible.
A voided check is different from a stop payment or voiding a certified check or cashier's check. In those situations, you are canceling a payment before it is processed by working with your financial institution.
Voiding a Check to Set Up Direct Deposit
Your employer might ask for a blank, voided check to set up direct deposit for your paychecks. A direct deposit is an electronic payment sent directly into your banking account instead of a paper check deposit.
The simplest way to void a check is to write "Void" on the front of the check using a blue or black pen. You can write the word diagonally in big letters across the whole face of the check.
Another method is to write "Void" in smaller letters on the date line, payee line, amount line, amount box and signature line to cover all the bases. That's kind of a hassle, but a voided check will be accepted that way too.
However you do it, don't write across the account number or bank routing number at the bottom of the check. Those digits need to be legible.
If the company requesting the voided check will accept a copy, you may be able to submit digital photos or a printed scan of a check instead of an actual paper check. If submitting a copy, void the check first, then take the picture or make the copy.
Whether you deliver a paper check, photocopy or digital copy, make sure to record the check number in your check register (if you use one). A paper check register is a booklet that often comes with your checkbook, where you can record checks and update your balance.
If you mainly use online banking instead of a check register, keep a copy or photo of the voided check for your records to help you remember the check number you voided.
If, for some reason, you don't have or can't find a check, call your bank or credit union and ask if they can provide you with a check you can void. You can also stop by a branch and ask how to get a blank voided check. A teller might give you a blank counter check, or you may be able to use a deposit slip from your checking account instead.
Do I Sign a Voided Check?
You should not sign a voided check. The financial institution or company needs the bank information, routing number and bank account number. The paper check is not being used to conduct a transaction, so you do not need to sign it. In fact, the signature line is a good place to write "Void" in large letters.
Is There a Voided Check Template I Can Use?
If you have blank checks and are looking for a template you can follow, you can check your bank's website or ask in-person at the bank branch. If you want to print a template online, some companies offer to print voided checks for you, but you need to provide a lot of sensitive personal finance details to use the template.
With check fraud on the rise, a better option is to ask your bank for assistance or find out if the company requesting the voided check has alternative methods to verify your bank account information.