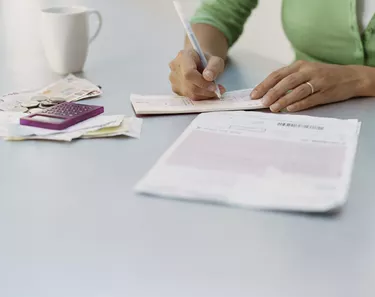 While it's very popular to use debit or credit cards for everyday transactions, the Federal Reserve reported that an average of ​14.5 million​ commercial checks still went through the system daily in 2021. This form of payment remains popular for its convenience and security compared to cash, and you'll find widespread acceptance too. You might be most familiar with personal checks, but you'll encounter several different types of checks with different pros, cons and uses. Plus, some options are electronic or don't require a bank account at all.
Personal checks are very popular and refer to the checks you'd write from your personal checkbook. These checks bear your bank account number and routing number, and your name is the payee. You can use these types of checks for everything from gifting friends and family to paying your everyday bills and buying items.
The Consumer Financial Protection Bureau says you'll need sufficient funds to prevent the check from bouncing and to avoid overdraft fees. These checks offer less assurance to the payee since the funds aren't guaranteed to be available upon cashing.
A business account holder can write business checks from their checking account for everyday expenses as well as major purchases. For example, the payroll check you receive regularly from your employer would be a business check. Companies might also write these checks to pay vendors or operating costs. First Republic mentions that these checks usually have more security features than personal checks and usually aren't handwritten.
Receiving Government Checks
The check's payer can sometimes be a government agency. For example, the U.S. Department of the Treasury lists stimulus checks, tax refund checks and Social Security checks as government checks that it may send you. Government checks usually stay valid for ​one year​ before needing to be reissued. In addition, they have a unique appearance with special security features like watermarks.
Obtaining Cashier's Checks
Also known as official checks and often used for large purchases, cashier's checks offer assurance to the payee since the issuing bank guarantees the funds. The bank takes the money from your account and puts it in its own when you request the cashier's check. You usually pay a fee for the check.
Certified checks are an option where the financial institution provides certification that you have the funds in your bank account. The check funds come from your account, so it's not a bank-backed check like a cashier's check. This check type can also require a fee, and you'll see a marking on the check indicating the certification. You might use one for large purchases like vehicle down payments or closing costs.
Rather than writing a paper check, you might provide your bank account information to transfer funds from your checking or savings account or to receive money yourself. E-checks use the automated clearing house (ACH) system; examples include direct deposits from your employer and online bill payments to utility providers. The Washington State Department of Revenue says e-checks may be a free option.
Purchasing Traveler's Checks
You can purchase traveler's checks as a safer and more convenient alternative to carrying cash abroad. These checks are easily refundable if you experience theft or loss. Just contact the issuing bank or credit union with the proper documentation. Along with using them for purchases, you can conveniently redeem them for the currency you need. American Express explains this payment method doesn't expire either.
As an alternative to the different types of checks mentioned, money orders don't require that you have a bank account, and they are widely available through financial institutions and various retailers. These secure payments usually come at a small fee that can vary by the purchase location and the amount of money the money order is written out for. However, you can only get a money order up to a limited amount such as ​$500 or $1,000​.
The USPS notes that you can track and cancel a money order if needed. However, doing so can require a processing fee and meeting deadlines for reporting.