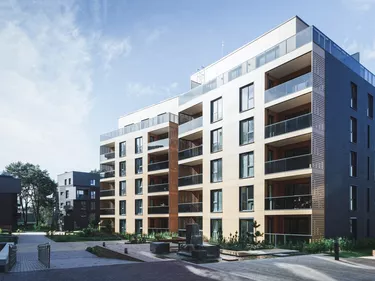 A building is regarded as residential when more than half of the floor area is designed for dwellings, according to the Organization for Economic Cooperative Development. The most common types of homes may be the single-family house but residential buildings of other sorts are most often found in cities and include rental units, condominiums or cooperatives. Residential structures may also be referred to as low-rise, mid-rise and high-rise. High-rise residential buildings are often common because of the high price of real estate.
Townhouses and Brownstones
New York as well as other older cities have retained many townhouses and brownstone residences. These buildings were built in the 1800s to early 1900s and are usually four to six stories in height. Townhouses and brownstones were at one time strictly private homes but many have now been converted into multiple residences. This type of multiple dwelling, like many other city residences, often has rental units; however, some have even been converted into cooperative apartments or condominiums.
Pre-War and Post-War Residences
Depending on when the building was erected, it will be described as pre-war or post-war. Usually about 10 stories high, these residences can be found ranging up to 20 stories high. Often, pre-World War II residences are known for large rooms, high ceilings and hardwood flooring. Post-war buildings were erected after World World II, beginning in the late 1940s through the 1970s, and are often high-rise structures as well.
Residential Loft Buildings
Lofts have become a type of residential building. Previously built for commercial purposes, lofts have been converted into individual living spaces. In lofts, ceilings are usually high and range up to 20 feet. Lofts also have certain features such as wide open spaces without walls, tin ceilings, supporting columns and visible duct work.
Elevator or Walk-Up Buildings
A residential building may be classified as an elevator building or a walk-up. An elevator building is usually 6 to 20 stories high. Walk-up buildings usually range up to five stories high and don't feature elevators. Unlike converted townhouses or brownstones that were originally built for single families, walk-ups were always built and intended for multi-family purposes.
Full Service Residences
Newer residential buildings erected after the 1980s typically offer a host of amenities and are referred to as full-service residences. Usually up to 40 stories high, full-service residences include a doorman, concierge and valet services, as well as a parking garage, a gym and a swimming pool.
Retirement Residences
Residential buildings designed for retirement are reserved for people age 55 and older. Senior citizen-only apartment complexes also tend to offer certain amenities that include dining and group activities. In retirement residences, available apartments may range from studio and efficiency dwellings to single or multiple-bedroom bedroom layouts
Condominiums and Cooperatives
Some types of residential buildings may consist entirely of rental units or apartments in condominiums or cooperatives that can be purchased. When bought, condominiums or condos are typically purchased from their previous owners or from the developer. A cooperative, or co-op, is not directly owned like a condo. Instead, the co-op purchaser owns a certain amount of shares in the cooperative's building that's based on the size of the purchaser's co-op apartment.