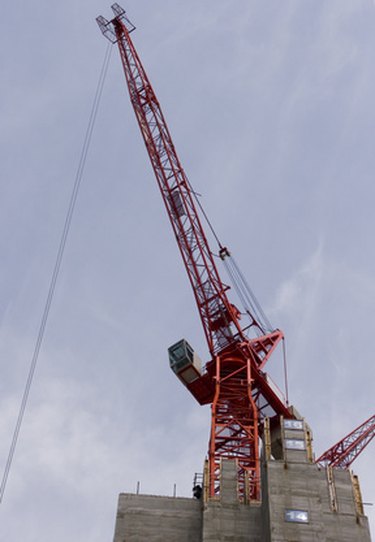 Crane mechanics typically maintain and repair not only cranes but bulldozers and other heavy mobile construction equipment. Aspiring crane mechanics who complete some formal training beyond high school have the best job opportunities. Salaries for this occupation are higher than the average for all maintenance and repair workers, according to the U.S. Bureau of Labor Statistics.
Job Features
Crane mechanics repair and maintain engines, transmissions and hydraulic, fuel and electrical systems. They work for heavy equipment wholesalers and leasing firms, government agencies involved in construction projects, construction and mining companies, and additional organizations that use cranes and other heavy equipment. Most crane mechanics work indoors, but field service technicians travel to construction sites when transporting the equipment to a shop is too difficult or cost prohibitive.
Salary by Experience
Many crane mechanics acquire training on the job, while others complete a formal training program. Employers prefer applicants with mechanical aptitude who are familiar with diesel engines and other vehicle components. The starting median pay range for heavy equipment mechanics was about $10 to $17.50 per hour as of January 2011, according to the PayScale salary survey website. The median range is the middle 50 percent of the earnings scale, meaning 25 percent of the mechanics earn less and 25 percent earn more. The median range for those with one to four years of experience was $13.50 to $18.70 per hour, and those with five to nine years of experience $15.60 to $21.40.
Salary Range
The average salary for heavy equipment mechanics as of May 2009 was $22 per hour, or $45,600 per year, finds the U.S. Bureau of Labor Statistics. The middle 50 percent of those on the earnings scale were making $35,600 to $53,400. The bottom 10 percent had salaries below $29,300, and the top 10 percent had annual pay above $64,800.
Potential
Alaska and Hawaii are the states where crane mechanics and other heavy equipment mechanics generally earn the most money, at $60,000 per year on average in 2009, according to the U.S. Bureau of Labor Statistics. Crane mechanics in California and Washington had average annual salaries of $56,000, and in Nevada, $54,000. Fairbanks, Alaska, is the highest-paying metropolitan area for these workers, where they make $70,000 per year on average. Other high-paying metropolitan areas include Honolulu, Hawaii; Toledo, Ohio; and Santa Rosa and Los Angeles in California. Heavy equipment mechanics in these locations were making $63,000 to $65,000 per year on average in 2009.