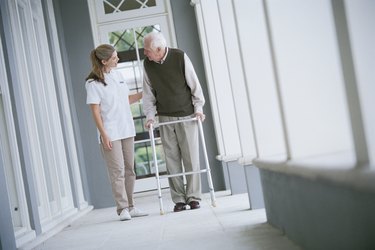 The prospect of hospice care often is difficult to deal with for the patient and her family and friends. Medicare beneficiaries who need hospice care can have most all of the standard services provided in such an environment fully covered by the insurance program if they follow the plan's guidelines.
Changing Environment
In the 1970s when hospice care became available in the United States, the majority of clients were cancer patients, according to the Hospice Foundation of America. Today, that is no longer true. The majority of hospice patients suffer from illnesses such as advance Alzheimer's disease, kidney failure, heart disease and other life-ending conditions. Medicare benefits cover all terminal medical conditions if certified by two physicians.
Eligibility
To be eligible for Medicare hospice benefits, the patient must be enrolled in some type of Medicare health plan, whether it's Original Medicare or any of the Advantage Plans. The patient must also be certified as terminally ill and sign a statement saying that he or she has chosen hospice care instead of medical treatments that aim to cure the medical condition. Medicare also requires the patient to choose an approved hospice program.
Certification
For proper certification, Medicare guidelines require that two physicians agree on the patient's prognosis. One must be a hospice doctor and the second can be your general practitioner. The physicians must certify that they do not expect the patient to live longer than six months. Once certification is obtained, if the patient lives longer than expected, the hospice doctor can submit a recertification so that Medicare benefits will continue.
Covered Services
Hospice services covered by Medicare include medical care provided by doctors, nurses, hospice aides, and therapists. The services of therapists, social workers and homemakers are covered as well, as are grief counselors for both the patient and the patient's family. Any medication, supplies and equipment the patient needs because of the terminal condition are covered.
Medicare covers respite care for the benefit of family members or friends who provide care to a hospice patient. This means the patient may spend a few days in an approved medical care facility such as a hospital or nursing home to give the caregiver time to rest.
Out-of-Pocket Expenses
Medicare does not pay for prescription drugs a hospice patient takes for any reason other than controlling the symptoms and pain of the terminal illness. While in hospice care if the patient receives medical treatment for a condition unrelated to the terminal illness, the patient may be responsible for part of the cost. For example, if prior to hospice care, the patient paid copayments and a deductible, this still applies to care unrelated to hospice. In addition, the patient may be responsible for 5 percent of the cost of respite care.