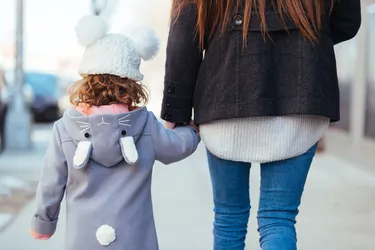 Parents must support their children, but child support payments can still get missed even with the best intentions. There are state websites to check child support payments, but users need to create accounts first. The experts at The Office of Child Support Enforcement explain this, providing a tool to help locate each state's contact information. These state websites allow you to set up an account, make online and phone payments, set up recurring payments, receive payments and see your child support payment history online.
Non-custodial parents paying child support in Indiana can pay with a personal, cashier's or certified check or money order and mail it to the Indiana State Central Collection Unit (INSCCU), PO Box 7310, Indianapolis, IN, 46207-7310. You'll need to download a remittance form from experts at the INSCCU, complete it and include it in the mailing. They also require the Indiana Child Support System case number, the court case number and the payment amount. If you pay for multiple children, you can send one check. Be sure to identify the payment amount for each child, though.
The experts at the Indiana Department of Child Services also explain that you can use credit and debit cards for payments at the Indiana Department of Child Services Online Payment service; they're processed immediately. You'll need to create a login for this. You can enter your Social Security number, billing address, phone number, the 10-digit Indiana child support case number, credit/debit card info and the payment amount. Call ​1-866-972-9427​ to pay by phone; electronic checks are not accepted.
Paying Child Support in Cash
Parents can also make child support bill payments in cash in states like Indiana. You can pay these at local county clerk offices and PayNearMe locations. The experts at PayNearMe provide an interactive map so you can find one nearby, select it and register your case online. They'll provide you with a barcode, which can be printed or sent to your mobile phone. Take that to the location and pay the amount; these take three business days to process, and the fee is ​$1.99​.
You can make child support payments at MoneyGram locations. You can find these at places like Walmart, CVS and grocery stores. It's not a bad idea to call over first to make sure that they can process your payments; it can be a bit confusing the first time. Ask an associate to help, and they'll provide you with a Receive Code ​14658​; these also take three days, but the fee is ​$3.99​.
Child Support Case Lookup
If you don't know your Indiana child support case number, call Kidsline at ​1-800-840-8757​; the line is open on weekdays (except for state holidays). You'll need this case number to see your child support payment history online; visit the Indiana child support pay history access page and create an online account. Both custodial and non-custodial parents can view the last five disbursed child support payments. To view more payments, call ​1-800-840-8757​. The best advice for paying parents is to pay on time, keep accurate records and hold onto receipts; receiving parents should also record every payment.
Is the process just as easy in other states? They all have specific procedures, but these make the process easier. For example, in New York, you can pay in-person, online or by mail. Contact your local child support office to see if they accept in-person payments. You can pay with a debit card, credit card or PayPal, and there will be a ​$2.50​ fee per payment; call ​1-866-645-6347​ to pay by phone.
To check a child support balance in NY, you can use the state's voice response system by calling ​1-800-846-0773​. This number is always available, but you'll need to set up an online child support account. Have your Social Security number, email address, New York Case Identifier(s) and a PIN. You can request a PIN by calling ​1-888-208-4485​.