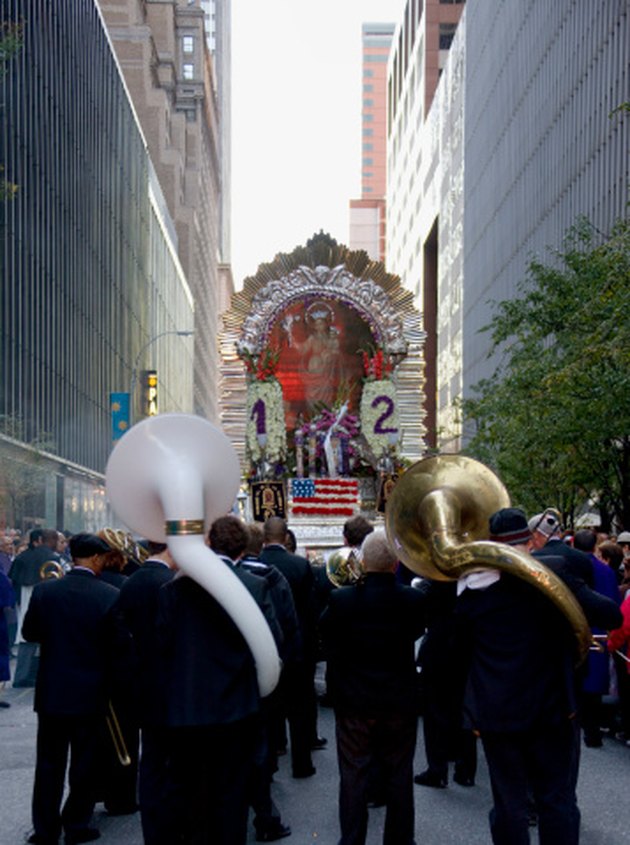 Whether you want to participate in this year's Independence Day Parade or just want to show your patriotism in your town's next parade--for either reason, your patriotic parade float does not need to cost you a bundle. Many local dollar stores, food markets and even thrift stores offer cheap decorations that you can use on your patriotic parade float. Just add a few dollars and a whole lot of creativity to get the crowd shouting, "Red, white and blue."
American Float
For this idea, turn your convertible car into an American flag parade-float. For less than $50, you can buy several American flags and place them to fly out of the roof of your convertible. Buy red, blue and white paper ribbon from a party store and stripe your car as the American flag. Additionally, buy star decorations to add to your windshield. Paint stars against a blue background on the people riding in the float. Throw star and American-flag-shaped candies in plastic bags out of the float.
American History Float
Even if you don't have the money to create an expensive float, you can still decorate your float well. Add large paper mache stars painted silver or gold to the sides of the float. Fill the top of the float with people, all decorated as colorful characters from American history, such as Abraham Lincoln, George Washington and Eleanor Roosevelt. If each member buys or creates most of his own costume, the only thing you will need to purchase is the paper mache for the stars. For an extra touch, give your float's "cast members" a bullhorn and allow them to quote actual speeches and writings from their characters that accent the nation's greatness, or allow your "cast members" to throw little Constitution scrolls into the crowd.
Support Our Troops
The yellow ribbon now represents the American value of supporting the troops overseas at war. After the Vietnam War, many troops came home to a country that, as a whole, did not accept them. Therefore, many Americans on both sides of party politics see the need to support the health, safety and lives of the troops battling overseas. For your "Support Our Troops" float, you can easily decorate the float with hundreds of large, paper yellow ribbons. The riders on the float can hold up non-traditional signs of actual kids' paintings to their overseas parents, hopefully reminding the crowd that troops are human beings first, with families and loved ones.