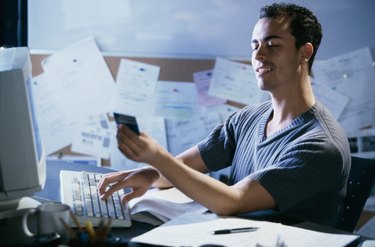 The Visa Black Card, available to just 1 percent of the U.S. population, is among the most exclusive credit cards in the world. The card's issuer, Barclays Bank, does not publish the specific requirements to qualify for a Black Card, but it is safe to say it's for high-income applicants only.
Credit Score
As with any credit card, applicants must meet certain credit history requirements to qualify for a Visa Black Card. Personal finance consultant Dave Manuel suggested in 2015 that a credit score of at least 700 is necessary to be eligible for a Black Card. By comparison, some credit cards are available for people with scores in the mid-500s.
Income
Barclay's Bank does not publish minimum income requirements for the card. However, a 2014 review by Consumerism Commentary confirmed it is designed for people who charge at least $50,000 per year.
Additional Considerations
The card carries an annual membership fee of $495. According to credit card review website, The Points Guy, members must spend at least $25,000 per year on the card to earn sufficient rewards to justify the expense.