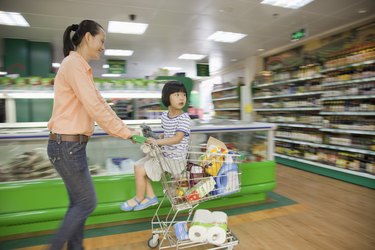 Mississippi residents may apply to the state's Supplemental Nutrition Assistance Program for help in buying groceries. SNAP is a joint federal/state program supported by funds at the federal and state level. In Mississippi, the Department of Human Services administers the program and sets the limits on household income for applicants.
SNAP Applications in Mississippi
A family that wishes to enroll in Mississippi's SNAP program must file an application with the county branch of the Department of Human Services, Economic Assistance Office. The applicants must provide a Social Security number for everyone in the household. After the application is filed, the agency will schedule an in-person interview with a member of the household to verify the income limits are being met. The income limits vary with the size of the household.
Asset Limits for Applicants
Mississippi requires all SNAP applicants to be state residents with a current bank account balance of $2,000 or less. If there is at least one household member aged 60 or above, or someone in the household with a disability, the limit on funds in bank accounts rises to $3,250. If there are no dependents, applicants between the ages of 18 and 50 must apply for work or qualify for an exemption from the work requirement.
Annual Income Limits
The maximum income for SNAP applicants is based on gross household annual income, meaning all funds earned by everyone in the household before taxes. If there is only one person in the household, the limit as of 2015 was $15,301. For two-person households, the limit rose to $20,709, and for three-person households the limit was $26,117. The state allows deductions from gross income for household expenses, earned income, dependent care costs, child support payments, and a portion of shelter costs.
Approval Timeline
If the application is approved, the household will be eligible to receive benefits within 30 days of the approval date. In emergency situations, the benefits can be made available within seven days. In Mississippi, as in other states, SNAP benefits are provided via an electronic benefits transfer card, which can be used to buy qualified items at the grocery store.