When used responsibly, credit cards have a number of benefits. They help you build up your credit score so you can qualify for loans to buy a home, car or another large purchase. They also allow you to shop online or make big purchases at local stores without the worry of carrying around a wad of cash. Of course, they are also handy when an emergency arises and you don't have immediate access to the money you need. Once you apply for a credit card and get approved, you'll need to activate it before you can begin using it.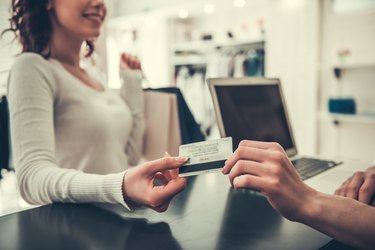 Choosing a Capital One Credit Card
Capital One has plenty of credit cards to choose from. This makes it easy to select one that best fits your needs. The Capital One Venture Rewards Credit Card is great for travelers who want to take advantage of airline miles, while the Capital One Quicksilver Cash Rewards Credit Card is better for people who prefer cash rewards to use on everything from a new cell phone to dinner out at their favorite restaurant. There also are cards specifically designed for students and business executives.
Activating Online
After the application for the credit card you selected is approved, Capital One will mail the card to you. To prevent the card from being intercepted and used in a fraudulent manner, the company makes the card inactive until you take the steps to activate it. One way to do this is by using Capital One's online activation page. If you already have an account, you can sign in. If not, you'll need to register first and create a username and password. Simply follow the prompts after logging in to insert your credit card's 16-digit account number and the 3-digit CVV located on the back of the card. The website will let you know that you have successfully activated your card so you can begin using it.
Activating Via the Mobile App
Cardholders also have an option to activate the card using Capital One's mobile app. The mobile app is available for download at both the iTunes store and on Google Play at no charge. After you download and log in to the Capital One mobile app, you need to tap the "Account Services" button and then the "Credit Card Activation" tab. From the activation tab, you simply follow the prompts to input the account number and the CVV code to finalize the activation. The credit card can be used immediately after the activation is complete.