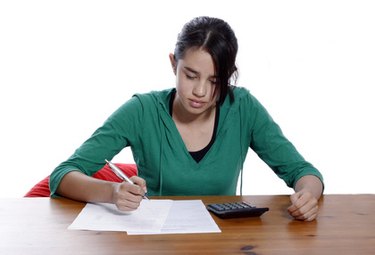 If you have earned untaxed income such as bank interest, dividends, retirement or pension payouts, or payment for independently contracted labor, you should receive a Form 1099 from the employer. This form is usually mailed before the end of January and is used during your income tax preparation. You do not usually have to send the form with your tax return, but you should keep it for your personal records. Oftentimes, these forms are lost, or the payer may neglect to send the form, or the recipient may have simply misplaced it. Whatever the case, if you've lost your 1099 tax form, you can obtain a new one or find the necessary income information through another source.
Step 1
Contact the payer and ask the individual or company to send you a new copy if you have lost your Form 1099 by accident.
Step 2
Contact the payer or institution and ask a representative if your Form 1099 has been sent if you are expecting a Form 1099 and have not received it by January 31. Contact the IRS at 800-829-1040 for assistance if you have not received the form by February 15.
Step 3
Obtain the necessary 1099 information through an alternative method. Often, the pertinent information from Form 1099 can be found on paper statements or online records. For example, if you are looking for interest earned on a savings account, check your account's year-end bank statements for a summary of the interest accrued that year.
Step 4
Download and print a substitution form (4852) from the IRS website (see Resources) if you have lost Form 1099-R, which is required to be submitted with your federal tax return.