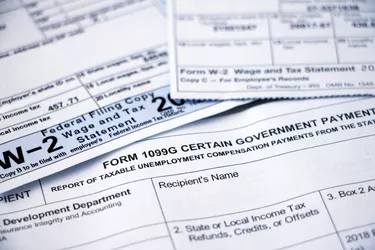 The United States uses a 1099-G form to report income that you received from the government through unemployment benefits, state or local tax credits, some types of government grants and other sources. If you are a resident of North Carolina, you can request your NC unemployment 1099-G form in several different ways.
Wait for the Mail or Check Unemployment W-2 Online
Just as your employer must mail your W-2 to you by January 31, government entities are also required to send tax forms, including 1099-Gs, to your physical address. If it's before the first week of February, you can wait to receive your document in the mail. If it does not arrive by early February, it's possible that it got lost in the mail or something else happened to it. If it's past early February and you don't have it yet, you'll want to take additional steps.
Perhaps the easiest way to get your NC unemployment tax form is by logging into your online account and downloading it. Visit the resources provided by the experts at the NC DES login page (Department of Unemployment Security) and access your account. 1099-G forms from 2018 and on are available online. If you no longer have your login information or never set up an online account, you can go through the DES NC gov unlock account process by following the advice provided by the experts at the DES NC.
The experts at the North Carolina Department of Revenue explain that you can request a 1099-G copy by calling the NC Department of Employment Security at 1-877-252-3052. In this request, you will need to provide identifying information, including your full name, address and Social Security number. While you are speaking with a representative, they can do a 1099-G lookup and verify that the government has fully processed your request.
This process is the most straightforward and efficient method to use if you know or suspect that you should have received a 1099-G but did not get one in the mail and cannot find it online. You can ask the representative why you haven't received your form yet, and they will be able to confirm whether there was an error on their end or yours. Remember, though, that it can take up to two weeks to process your request, even if the representative verifies that you do have a 1099-G form for the year.
Request by Email, Snail Mail or In-Person
You can also simply request a 1099-G form by email by sending an email to des.ui.claims.1099@nccommerce.com. In the subject line, put something like "1099-G Form Needed" or "Formal Request for 1099-G form." You will need to include your full legal name, complete address, phone number, date of birth and the last four digits of your Social Security number in your email request. This method is probably the best to use if you've misplaced your original copy and want one for your records. However, if the deadline to file your taxes is looming, you may want to call or visit an office in person because an email request can take two weeks to process, and you won't converse directly with a live person to confirm that it is on its way.
If you've got time and would rather send a traditional letter, you can do that. In the letter, you should include the same information that you would include in the email. You will need to mail a letter requesting your NC 1099-G tax refund or unemployment form to the Division of Employment Security's Intrastate Claims Unit in Raleigh.
Another option is to make your request in person. Look up your county's office for the DES and visit in person. You will need government-issued identification, such as a driver's license, passport or Social Security card. Be aware that not all government offices have completely reopened in the wake of the COVID-19 pandemic, so check for hours and whether you need an appointment before visiting.