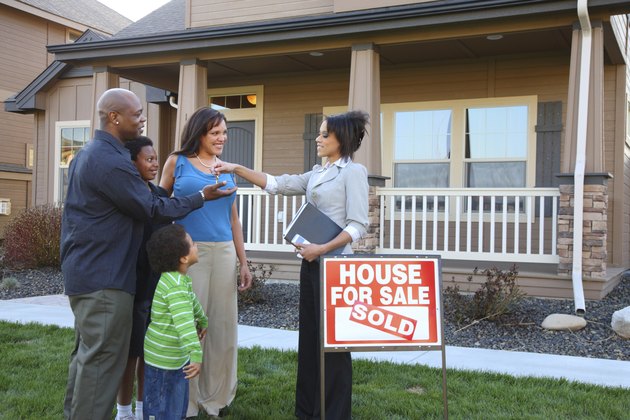 A down payment is often the biggest challenge buyers face when purchasing a home, especially first-time homebuyers. Median home prices, location and homebuyer age can affect the average down payment, according to real estate analysis conducted by Realty Trac. The average down payment nationwide in 2014 was 14 percent. However, high-end homebuyers contributed higher-than-average down payments of more than 20 percent.
Priciest Counties Average 24 Percent Down
The 25 highest priced counties experienced the highest average down payment of 24 percent, according to Realty Trac's 2014 study of 1.5 million purchase loans. In the top five priciest counties, the average down payment ranged from approximately 38 percent to 28 percent. These counties, starting from the highest down payment percentage, are:
New York County, NY
San Francisco County, CA
San Mateo County, CA
Kings County, CA
Marin County, CA
In these counties, low down payment loans, which offer less than 20 percent down, made up 7 percent of all purchase loans.
12 Percent Is Average in Lower-Cost Counties
Twenty-five percent of home purchases in the nation's 25 lowest priced counties averaged a down payment amount of $8,239. This translates into a 12 percent down payment average for these areas, or half that seen in the nation's highest priced counties. The five low-cost counties with the lowest down payments in 2014 were:
Genesee, MI
Muskegan, MI
Clark, OH
Ashtabula, OH
Bibb, GA
Average down payments were about 9.5 percent in these five counties.
Age of Low Down Payments
Low down payment loans accounted for 18 percent of 2014 home purchases across all counties. First-time buyers, or buyers who have not owned a home in the past three-year period, have a better chance of purchasing a home in a low-priced county and have a higher rate of using low down payment loans. Also, the 25 counties with the highest rates of millennial buyers, or the population who was born roughly between 1981 and 1997, had a higher average down payment at 17 percent.
Pros and Cons of Low Down Payments
A down payment of 20 percent or more makes buying a home easier overall. You have more loan options with a hefty down payment. You also have a relatively lower monthly payment because you finance 80 percent or less of the home's value. Interest rates and loan terms are more favorable, too. Purchasing a home with less than 20 percent down results in higher monthly payments. Generally, buyers who put less than 20 percent down must pay for private or government mortgage insurance and must pay property taxes and homeowners insurance each month via an escrow impound account established with the lender.