When you buy a house, it's important to state in your offer that the the sale is contingent on the home passing an independent inspection. Not only does this protect you by providing a way to detect problems early on, it's mandatory if you're applying for a mortgage loan insured by the Federal Housing Administration. Although an appraisal and home inspection are two different processes, a home in poor overall condition can appraise for less than it would otherwise, affecting both its market value and financing.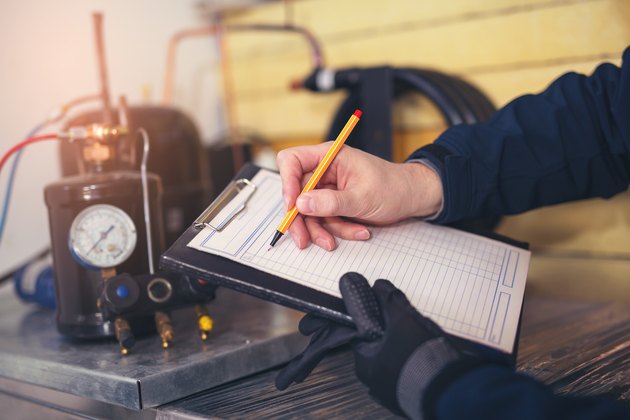 Inspecting the Building's Interior
When examining a building's interior, an inspector will assess the condition of the walls, floor, windows and ceiling in each room. He will look for signs of peeling paint, for damaged plaster or sheetrock, and for stains on the ceiling and walls that may indicate water damage. An inspector will also look for signs of water damage to floors and for floors that are weak or rotted. He will check for worn kitchen counter tops, missing handrails, cracked window glass, and damage to exterior doors. On the checklist report, the inspector will note signs of termite infestation or other wood-damaging insects that may require further inspection.
Inspecting the Building's Exterior
When inspecting a building's exterior, an inspector will assess the physical condition of the foundation. Bowed or bulging walls and cracks in the foundation wall can be signs of structural problems that may fail inspection. Visible cracks or gaps in the chimney lining can signal a problem as well. When inspecting the roof, an inspector will look for obvious signs of storm damage. He will check to see if there are more than three layers of roofing, and rain gutters on the home that are in decent repair. If the exterior of the house is painted, the inspector will check for signs of paint deterioration such as peeling and blistering.
Inspecting the Building's Heating and Plumbing Systems
Although inspections are primarily visual, a home inspector will test indoor plumbing fixtures and check the water supply and sewage pipes to the home. He will check for plumbing leaks and make sure that the home's heating and cooling system is in working order. Minimal FHA standards require that a home have an adequate heat source for its size and be free of safety hazards. An inspector will check to see if a home has insulation and will estimate the remaining useful life of the home's heating, electrical and plumbing systems.
Inspecting the Building for Health and Safety Hazards
An inspector will check for health hazards such as damaged asbestos or deteriorating lead-based paint on the interior and exterior surfaces of a home built before 1978. If the paint is deteriorating, it may be necessary to have the home tested for lead hazards. A home inspector will also inspect for electrical hazards, checking electrical switches and outlets, and for frayed wiring that is exposed. He will check for proper ventilation in the home, as poor indoor air quality is a potential health hazard. The home's proximity to high-voltage power lines, hazardous waste sites. and heavy traffic areas may cause additional health and safety concerns.