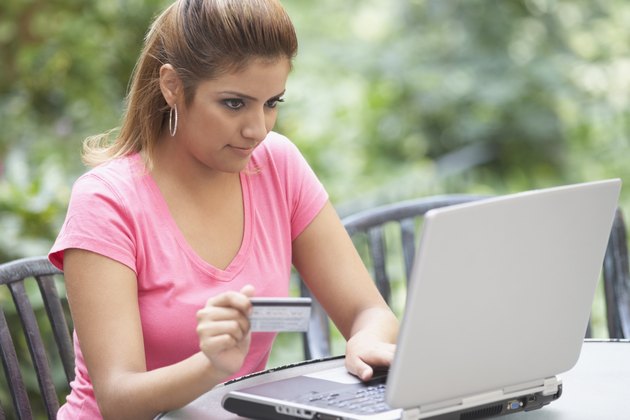 Gone are the days when the only option for paying a credit card bill involved writing a check and mailing it at least one week in advance of the due date. Today, online payment options are available for both transactors, people who pay their balance in full each month; and revolvers, who carry their balances from month-to-month. Regardless of which category you fall into, Capital One has a simple option for paying your bill online.
Enroll in Online Banking
To enroll in and access Capital One's online banking services, you'll need your account number, the three-digit security code on the back of your credit card, your Social Security number and a valid e-mail address. During the four-step process, you'll create a username, a password and provide answers for three security questions that serve as a second line of defense to prevent unauthorized persons from accessing your account. Once enrollment is complete, you'll be able to sign in and access your account immediately.
Link a Bank Account
Select "Manage Payment Accounts" from the payments tab in the navigation menu, to link your bank and credit card account. Enter the routing number, the account number and type of account. Capital One will then verify the account is real by making a trial deposit and withdrawal of a few cents within two to three days. Once verification is complete, you can start paying your bill online.
Pay Your Bill
Click the green "Pay Bill" icon that appears to the right of your account summary. To make a single, one-time payment, fill in the amount and the date on which you want to pay on the payment page. Click continue, verify the information is correct and click to schedule the payment. To set up auto-pay, select auto pay from the menu on the right side of the payment page. The default payment date will be your credit card due date, but you can change it by choosing Change Payment Due Date from the services menu. Select whether you want to pay the minimum monthly payment, the last statement balance or a fixed amount of your choosing. Review and click to schedule auto payments.