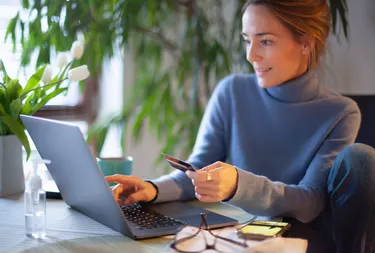 Canceling a Capital One credit card is an easy process you can do online, in writing or over the phone. However, you'll probably do more harm than good to your personal finances, depending on the reason you're canceling your card.
Understanding what happens to your credit score when you close any credit account will help you make the decision whether you really want to close a credit card, or just zero it out and stop using it.
Closing A Capital One Account Online
There are two basic ways to cancel a Capital One credit card: you can pay off the balance and close the account, or you can close the account but continue to make your minimum monthly payment (or more) until your balance reaches zero. You will continue to pay interest on your balance until it's paid off.
If you'd like to close your Capital One account online, visit their website, navigate to the account closing page and follow the instructions. If you haven't set up your account for online transactions, you'll need to do that. If you don't want to set up an account now that you're getting ready to close your card, cancel by phone or in writing.
If you have set up autopay to handle recurring payments, make sure to turn off any recurring payments you have scheduled. Look at your past year's statements to see which accounts you've set up for auto payments. These can include utilities, cable, phone, insurance and other regular bills you have. Be sure to look for annual subscriptions so you don't get a surprise bill and nonpayment cancellation or penalty later in the year.
Make sure you write down every recurring bill you had on autopay and take steps to make sure they continue to be paid on time in the future. Do this before you close your account to make sure you don't have any issues with upcoming payments.
Next, pay off your balance if you want to completely end your relationship with Capital One. If you do this online or over the phone, your account should show a zero balance the next business day. If you're making a payment on a Friday or the day before a holiday, give your payment two or three days to clear.
Closing Your Account By Phone
If you want to close your account by phone, call the number on the back of your card. If you don't have your card handy, search online for the Capital One customer service number. The customer service rep who answers will be able to help you close your account. Credit card brands usually ask you to listen to a review of your card benefits, special offers and other information designed to keep you from closing your account.
To close your account, you will need to provide information such as your account number, name, Social Security number and address.
You will also need to tell the rep how you wish to pay off your balance if you're doing that with this closing. Have the bank routing number and check number ready if you are going to pay off the balance that way. Ask for other options for paying off your card and instructions for using the method you decided to use. For example, you might want to transfer your Capital One balance to another card, which can take seven to 10 days.
Closing Your Account In Writing
If you want a written record of proof that you closed your account, write to Capital One to cancel your account. For added assurance, send the letter by certified mail. Follow the instructions on the Capital One website or talk to one of the customer service reps to make sure you send your letter to the correct address.
Regardless of how you close your account, you will receive a letter from Capital One confirming the closure of the account. If you are moving, provide Capital One with your new address by updating your account before you close it. After you close your account, it's very difficult to reopen, states Capital One on its website. However, you might receive multiple offers in the mail or by email to open a new Capital One credit card account.
Disadvantages of Closing Your Account
When you close a credit card account, you can damage your credit score in three ways. First, your credit score takes into account your debt-to-credit ratio. If you have two credit cards with a $5,000 line of credit on each and you have a $2,000 balance on one of the cards, your debt-to-credit ratio is 20 percent, which is a good ratio. Credit repair gurus recommend you keep your ratio at least 30 percent or lower.
If you close one of your cards, you now have only $5,000 worth of credit (instead of $10,000) and your debt-to-credit ratio instantly doubles to 40 percent, even if you haven't made another charge.
In addition to looking at your debt amount, credit scoring companies look at the length of time you've had credit products. If you are canceling a card you've had for 10 years, you lose the time benefit you get from having that card.
Finally, each time you make an on-time payment, you help your credit score. If you close your card, you lose the opportunity to make 12 on-time payments during the year. Even if you make a $5 payment each month and pay it off, you get credit for on-time payments.