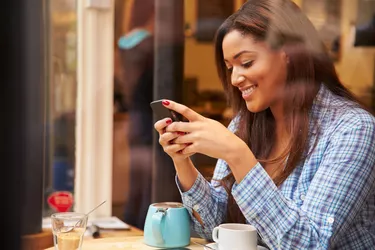 Capital One offers different financial products, but the process for accessing them is basically the same. You can call and follow the pre-recorded prompts or speak with a human, you can log in to your online account from your computer or you can check your account using the Capital One app from your phone.
You'll need to set up your online account first. When using a phone call to access your account information, you'll need to provide one or more pieces of information to verify it's you.
Different Capital One cards have different phone numbers on the back. That means getting a generic customer service number from an online search might not get you to the account you want.
For example, as of August 2021, Capital One's GM Flexible Earnings Mastercard shows a customer service phone number of 800-947-1000. Capital One's Platinum Mastercard shows 800-227-4825.
When you call those numbers, you might be prompted for your zip code, the last four numbers of your card or the last four digits of your Social Security number. Using the number associated with your particular card (the number on the back or on your monthly statement) should get you where you want to go in the quickest manner possible.
As of August 2020, the Capital One website offers 888-464-7868 as the number to access its automated system 24/7. To speak with a live representative, call 800-289-1992 from 8:00 a.m. to 8:00 p.m. seven days a week.
Whatever number you use, an automated phone system or customer service rep should be able to help you. You might need to provide your entire card number and other information if you call another of Capital One's numbers. If you have Capital One checking or savings accounts, the process is similar.
Accessing Your Account Online
To get your credit card balance, transaction history, APR, balance offers, credit score and other information online, visit the Capital One website. If it's your first time, you'll need to set up an account. According to the Capital One website, you'll need to provide:
Your credit card number
Your Social Security number or taxpayer identification number
An email address
The three-digit security code on the back of your card
Follow the directions to enroll. Once you have enrolled, review the various options you have for accessing your information. If you have multiple Capital One cards, you can link them to one online account. Once you log in, you'll see your different cards. Click on the account you want to access.
Using a Mobile Banking App
You can learn about the features of Capital One's online banking app via the company's website. You can download the app from Apple's App Store or Google Play. Once the app loads, follow the directions to set up your account.
You'll need your account information to set up your app, similar to what you need to set up your online account access. If you want added security, don't allow your phone to save your password for the app.
You can check your basic account information 24/7 using the toll-free numbers on the back of your card. You'll be welcomed and asked for the last four digits of your card and the last four digits of your Social Security number.
You don't need to wait for a human if you just want your balance, available credit or next payment due. If you want a human, wait to be asked by the system why you're calling. Give the reason from the suggestions offered, or give another reason. If you are having trouble getting a human, these phone systems often recognize the words "agent," "associate" and "human" and will get you to a customer service representative.
Other Capital One Accounts
If you have a Capital One savings account, certificate of deposit or checking account, the process for accessing your account will be similar. You'll be asked for a user ID and password to enter. To set those up, you'll need to set up accounts for those products by following the directions and prompts, which requires you to enter your account number, name and other relevant information.
If you want to sync a 360 account with another program, you'll need to generate a Capital One access code to use with that account with the other platform. Visit your account, click on "Account Services and Settings," then "Account Management," then "Get Access Code."