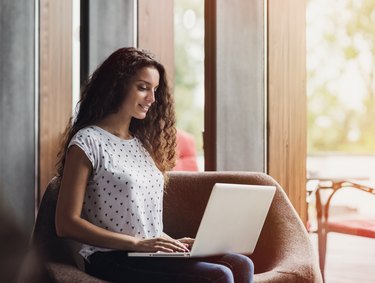 Bank of America is one of the biggest banks in America, with more than $2.17 trillion in assets. But no matter where you have your money, it's important to always keep an eye out to make sure you're getting the best deal. When the time comes to move your money to a new bank, you'll want to make sure you clear out your balance at your former bank and officially close the account. If your money is currently with Bank of America and you want to move it, there are some things you can do online, but you'll ultimately need to either pick up the phone or visit a local branch to finish the process.
Inability to Close Accounts Online
Despite the convenience of online banking, there are still a few services Bank of America doesn't provide online. You can, however, review the balances you have in your accounts and move all of the money to one place in order to make it easier to withdraw. You can simply deposit a check into your new account for the amount or have a cashier's check written that you can then take to your new bank and deposit.
You can either visit a local branch or make a phone call when you're ready to close the account. Before making that call, go through your recent charges and note any payments you have set up to automatically come out of any of your accounts. You'll need to contact each payer to have your billing switched to the new bank to avoid having any denied payments.
Using Phone or Mail
If you'd prefer not to travel to a local branch – or you don't have one conveniently located nearby – you can close your account by phone. Make sure you've taken measures to clear all of the funds out and stop any recurring payments. If you have a Bank of America credit card, you can cancel that by phone, as well, by calling 800-732-9194. To cancel your checking or savings account by phone, call 800-432-1000.
You can also close your checking or savings account by sending a letter to Bank of America, FL1-300-01-29, P.O. Box 25118, Tampa, FL 33622-5118. The letter should be signed by everyone whose name is on the account. No matter how you choose to close your account, be prepared for a sales pitch on why you should stay.
After Your Account Has Closed
Once your bank account is closed, any requests for funds that come through will be denied. It's easy to miss a payment along the way but doing so could cause problems with your creditors. Some people choose to leave their old account open with a low balance for a while, just to catch any recurring payments they might have missed. In addition to monthly bills, consider any annual or semiannual charges you may have forgotten about.
State law usually governs how quickly bank accounts must be closed after an account holder requests it. Save all documentation and, if you have any problems, research local laws. Before contacting local regulators, first contact your bank and let them know that you've noticed your account remains open and you plan to report it.
Records of Closed Accounts
For its own security, Bank of America has a good reason to keep your account records after you're gone. If, for some reason, you become subject to an IRS audit, you might actually be grateful that you can access your old account information. Even after your account is closed, you may notice an incorrect charge on your final bill, at which point Bank of America's records will help straighten things out.
Each bank has differing policies, but Bank of America says it retains records for up to seven years. This is merely for historical purposes and will not affect your credit negatively. However, closing your credit card account could give your score a slight downward slide in the short term. If you plan to apply for a mortgage or finance a new car in the near future, consider keeping your credit card account open until you're at least past that hurdle.