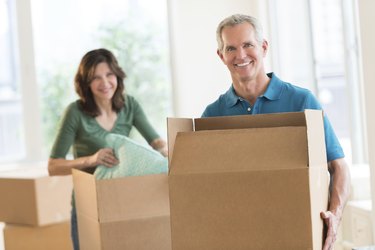 Moving to a new home isn't just disruptive and disorienting (which box is the toilet plunger in?). It can also be expensive, even if you're only moving across town. If you don't have a ready source of funds, you might not be able to afford professional movers, or a hotel room while you're temporarily homeless, or utility hookup charges and other startup expenses in your new home. However, there are ways to find immediate financial help for moving expenses.
Sell Off Excess Possessions
When you begin packing, take a close look at your possessions. You may be surprised to see how much you do not use, do not need or do not even want. Selling these excess items can generate cash for moving expenses. Post items on classified-ad or auction websites, make use of free or low-cost print classifieds where available, or look into consignment shops, which sell your stuff for you in exchange for a cut of the sale price.
Yard Sale
A few weekends before you move, have a yard sale to get rid of everything you haven't been able to sell yet. If you have an item that needs to be replaced -- for example, furniture that fits your old house but not your new one -- sell it at the sale rather than take it with you. This not only generates cash for moving expenses, but also reduces the total amount of stuff you need moved, which can save you money on packing or transportation costs.
Throw a Party
You've heard of housewarming parties for new homes. Switch it up and have a party before you leave our old one. Invite family and friends to help you pack while playing some music. (Don't forget to feed them, though.) This can cut your packing work considerably -- or allow you to avoid hiring someone to pack for you. You might even get some gifts in the process, shaving even more off your moving costs.
Public Assistance
You may be eligible to have some or all of your moving expenses paid by your state or local government's social services department if your move is due to a natural disaster or dangerous living conditions or if you are moving to a less expensive apartment. Check out your state and local social services agencies' websites to see whether you qualify for assistance.
Talk to Future Employer
If you are moving to take a job, you may be eligible to receive a relocation package from your future employer. Some employers are willing to pay anywhere from $1,000 to $10,000, depending on how much they need you to fill a position. Have a list ready of all the expenses you plan to pay for during your move (such as transportation costs, storage and security deposits). Keep the receipts of all the items and services you purchase for your move. If you don't get relocation assistance from an employer, or get only partial assistance, your unreimbursed job-related moving expenses may be tax deductible.