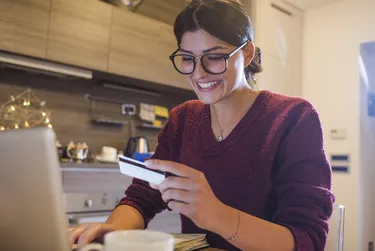 You can quickly and easily check your American Express gift card balance using your phone or computer. The process is simple and you can re-check your balance each time you use it, or after you haven't used it for a while.
This can come in handy if you want to trade or barter your plastic card for other goods and services (such as landscaping, babysitting or pet sitting services or an item you want to buy from someone on Craigslist). You can confirm the amount it has on it while you're with the person who is thinking of taking it as payment.
American Express Gift Cards
Amex gift cards look like credit cards, with the card number on the front, an expiration date (in a decorative format of 00/00 only) and the Amex logo. You can purchase business gift cards or personal versions, depending on your need. Companies can have their logos imprinted on the cards with a thank you message and a more formal design. Personal cards are suggested for orders of five cards or less and come in less formal designs.
You can order plastic gift cards or e-gift cards that are emailed to your recipient. Plastic gift cards can be used in person at locations that might not take online gift cards. Both plastic and e-gift cards can be used online by inputting the card's number and PIN.
You can check your balance by calling the number on the back of the card or visiting the American Express Gift Card website. When you phone in, just enter the information at the prompts, which will include the card number and PIN number.
To check your balance online, visit the Check Balance page of the Amex website and enter your card number where indicated. Don't forget to check the "I'm not a robot" button before clicking the "Continue" button.
If you don't have your card handy but need to know your balance, call the American Express gift card toll-free number at 888-846-4308.
If you have any questions or problems with your card, American Express provides a state-by-state listing of contact information for you to use to solve your problem. Navigate to the Money Services Business Disclosures page, find your state and follow the directions, which can start with calling the toll-free number provided. Use this method to question your balance or to report your card lost or stolen.
To avoid problems, register your card online with Amex as soon as you get it. Consider marking a plastic card with a permanent marker each time you use it so you'll know your balance without having to look it up.