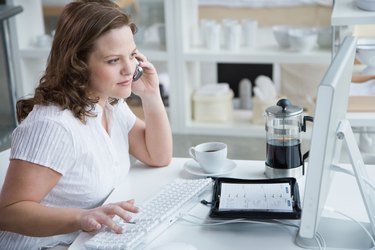 With the rising cost of college, many students are taking out loans to finance their education. These loans often last long after you have graduated. While you are still responsible for paying your student loans for as long as it takes, you may be married with kids before you send in the final payment. If, during the course of your loan, you legally change your name through marriage or divorce, you need to contact your lender and verify the change of account information to ensure your loan continues to be handled properly.
Step 1
Visit the Social Security office to have your name changed legally before alerting your lender.
Step 2
Contact your lender to inform them of the change. Different lenders will require different paperwork for legal name changes. Request documents to be mailed to you promptly.
Step 3
Complete any required paperwork and prepare a letter stating the reason for the name change as well as the effective date. The letter should include your new name, old name, account information and Social Security number.
Step 4
Photocopy proper identification and legal documents that verify legal name change.
Step 5
Mail completed forms, letter and identification copies to your letter using the Certified/Return Reciept Requested option at the Post Office.
Step 6
Follow up with your lender in two to three weeks to ensure name change has been recorded.
Tip
Proper identification and proof of name change will vary by lender, so you'll need to contact them early enough to ensure you have the legal documents you need.
Keep copies of all correspondence with your lender.
Warning
Don't delay in completing the name change paperwork or you risk having your account mismanaged when you make subsequent payments.
Things You'll Need
Contact information for your lender

Loan account information

Legal proof of name change